Tortellini with Guinea Fowl Filling
by Editorial Staff
The filling for tortellini is made from guinea fowl. The poultry carcass is first to cut into large pieces, fried and brought to readiness in white wine. After that, the meat is separated from the bones, passed through a meat grinder and mixed with eggs or proteins. Cut the egg dough into squares, put the filling in the middle and mould the tortellini. Boiled tortellini are served with a sauce to taste: butter with sage, tomato or tomato-cream sauces.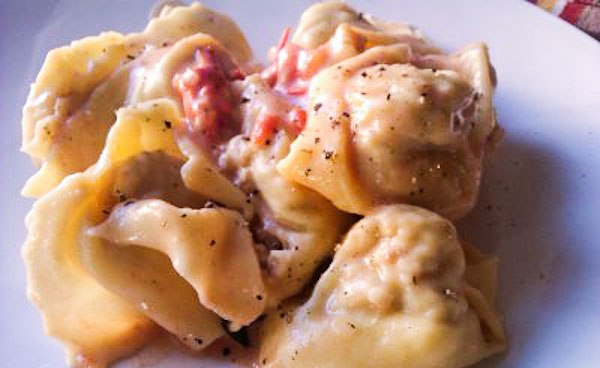 Ingredients
guinea fowl
celery
onions – 1 pc. (small)
olive oil
egg (proteins) – 2-3 pcs.
Parmesan cheese (grated) – 100g
salt, pepper – to taste
egg – 2 pcs. + 4 yolks
flour – about 400g
salt – 1 pinch.
Directions
Finely chop the onion and celery.
Cut the guinea fowl into meat pieces. I prefer to leave my spine and neck for some broth.
Lightly brown the onion and celery with a little olive oil, then add the meat, brown on one side, turn over, salt and pepper. Brown the meat on the other side and add half a glass of dry white wine. Without reducing the heat, let the wine evaporate and add broth or boiling water (about a glass), cover with a lid, reduce the heat and simmer until the meat is cooked. In the end, we can open the lid to evaporate the remaining liquid. While the meat is cooking, knead the dough on the eggs, as already described in the previous recipes. Leave the dough for 30 minutes, previously wrapped in foil, and start filling.
Separate the meat from the bones and grind in a meat grinder, along with sautéed onions and celery. Add whites (or eggs), grated parmesan, mix well until smooth.
Roll out the dough and cut into squares about 6×6 cm in size.
Layout the filling.
To form the tortelloni, first, fold the square diagonally into a triangle.
Press on the edges and fold the corners, overlapping one another, here's the result. Put a large saucepan on the fire and, when the water boils, add salt and add the tortelloni, as soon as they come up, take out with a slotted spoon and add to the sauce. Now about the sauce – you can just a slice of butter with a saffron leaf or butter and thin truffle or tomato sauce with basil on top. We made cherry tomatoes, basil and cream.
Also Like
Comments for "Tortellini with Guinea Fowl Filling"