Armenian Pilaf with Mushrooms
by Editorial Staff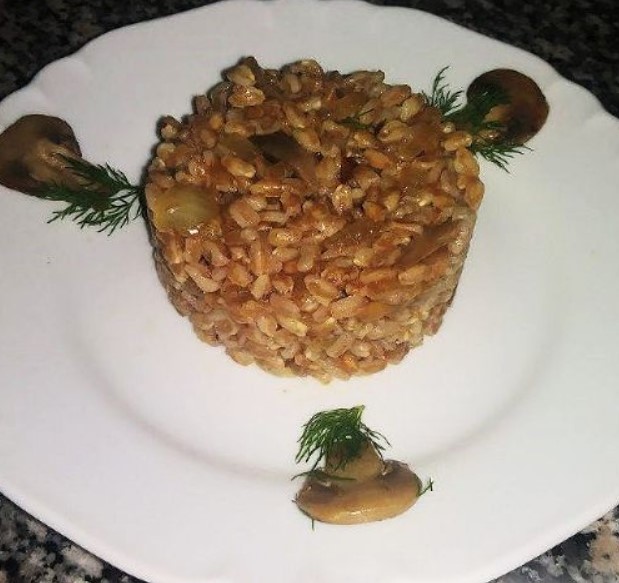 This recipe for pilaf with mushrooms is very simple and quick, but the dish turns out to be very tasty! Spelled pilaf looks very nice on the table, thanks to its crumbly structure and warm nut color!
Cook: 40 mins
Servings: 2
Ingredients
We will prepare the necessary products for pilaf with mushrooms. You can use only vegetable oil – the dish will turn out to be lean and vegetarian.

We sort out the spelled and rinse it under cold running water, put it back on a sieve and let the water drain completely.
We put the pan on medium heat, add one tablespoon. a spoonful of vegetable oil and one tablespoon. a spoonful of ghee
.Add spelled and fry for 2-3 minutes. Pour in boiled water at the rate of 1 to 2, that is, for one glass of spelled we take 2 cups of boiling water. Close the lid and cook for 35 minutes.
(IMPORTANT! The groats MUST NOT BE BROWNED! The seeds must be soft, but intact, not falling apart!)
While the spelled is cooked, let's take care of the mushrooms. Cut the onion into not very large cubes, and the mushrooms – into 4 parts (small – in half).
In a deep frying pan or cauldron, melt 1 tablespoon. a spoonful of ghee and vegetable oil. Add onion and fry for 2 minutes. Then we send the mushrooms into the pan and fry for 3-4 minutes, until golden brown
The mushrooms are ready. Salt mushrooms and spelled to taste.
We combine mushrooms with spelled. Let's try it, add a little salt if necessary – and the pilaf with mushrooms is ready!

We spread the pilaf with mushrooms on a dish. Well, very satisfying and tasty! Bon appetit!
Also Like
Comments for "Armenian Pilaf with Mushrooms"