Boiled Crayfish
by Editorial Staff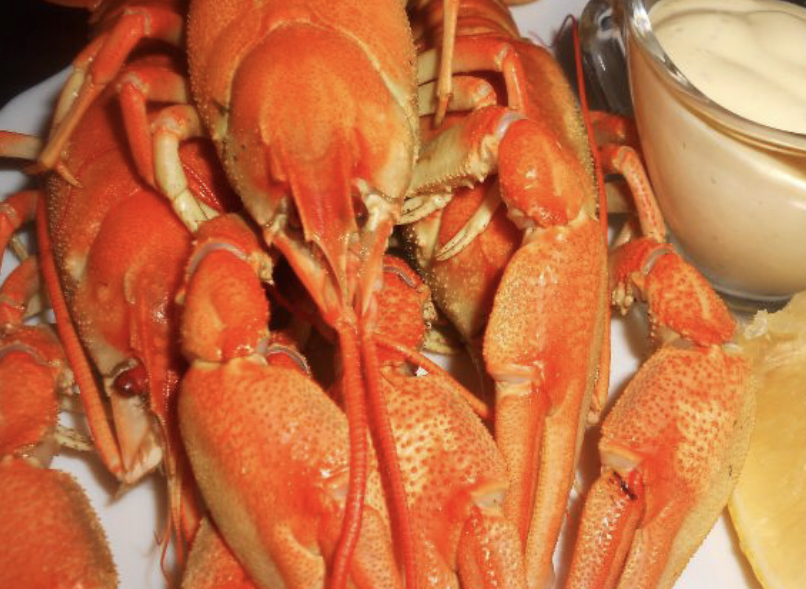 Boiled crayfish is a delicious snack for gatherings with friends. But not every housewife knows how to cook crayfish correctly, and most often she trusts the male half. Thanks to this recipe, you will learn all the intricacies of cooking crayfish and will be able to surprise your soul mate with your skills.
Ingredients
Fresh live crayfish – 10 large or 20 small
Lemon – 0.5 pcs.
Carrots – 1 pc.
Bulb onions – 1 pc.
Allspice peas – 10-15 pcs.
Dry dill – 1-2 tbsp
or fresh dill – 1 bunch
Salt – 2-4 tbsp
Water – 2 l
Directions
You can only cook fresh live crayfish. When choosing crayfish, pay attention to the tail: if the crayfish is alive, it should be firmly pressed to the abdomen.
Selected crayfish should be soaked in cold water for 2 hours to remove dirt (or thoroughly rinsed with each crayfish brush).
If on the way home some crayfish "fell asleep", then they must be taken away immediately – they are not suitable for cooking. Many are interested in what will happen if you still eat dead crayfish. Some have even carried out experiments and claim that it is not dangerous. But cases of serious poisoning when eating dead boiled crayfish are much more common. Therefore, it is better to play it safe and throw out the "dead in an unequal struggle" crayfish.

While the crayfish are preparing for boiling, prepare the vegetables and spices. Peel and wash carrots and onions. We also need the following ingredients: peppercorns, salt, lemon, and dill (preferably fresh dill twigs or umbrellas).
Place a large pot of water on fire. How much water you need depends on the number of crayfish (I took 2 liters of water for 10 large crayfish about 20 cm in size).
Cut the carrots into large pieces, cut the onion and half the lemon into 4 pieces. Send all this to a saucepan and add dill and peppercorns there.
The water needs to be salted, based on your taste preferences. Usually, for 2 liters of water, you need to take 2-4 tablespoon. tablespoons of salt. Add less first, then try – the water should be well salted. I added 4 tbsp.
When the water boils, it's time to send the crayfish to the pot, but at this stage, you also need to make sure that all the crayfish are alive. Before boiling crayfish, you can remove the bitter intestines from them. To do this, you need to feel the fins under the tail and pull in a circular motion. This is not necessary, I did not do it, because the crayfish were more alive than all living things and very active. But while eating, one should not forget about the presence of these sources of bitterness and remove them.
It takes 15 minutes to cook crayfish from the moment of boiling, for small crayfish 10 minutes is enough. After a while, remove the pan from heat, cover, and leave for 20-30 minutes.
(Since I had a lot of crayfish, about 40, and there was no large suitable saucepan, I cooked them in several passes.)
After that, you can get the boiled crayfish out of the broth and serve. Since it is most delicious to eat crayfish hot, when steam is still coming from them, it is better to get them out of the broth in portions.

Cooked crayfish are best served with a white sauce (like aioli) and a slice of lemon. Separately, you need to serve a saucer with acidified water. It will not be superfluous to use kitchen scissors during a meal, since crayfish have a very durable shell.
As for the parts of cancer that can be eaten, these are meat from claws and walking legs (if the cancer is large), caviar under the tail of crustaceans, and under the shell next to the cancer neck, the cancer neck itself. You can also turn the crayfish upside down, open the shell, and drink the broth. Some people think that the liver of crayfish is edible, but it can be bitter, so it is better to remove it, like, in fact, the intestines of cancer, but this must be done carefully so that the rest of the meat does not taste bitter later.
Enjoy your meal!
Also Like
Comments for "Boiled Crayfish"