Buckwheat Porridge with Chicken Wings and Mushrooms
by Editorial Staff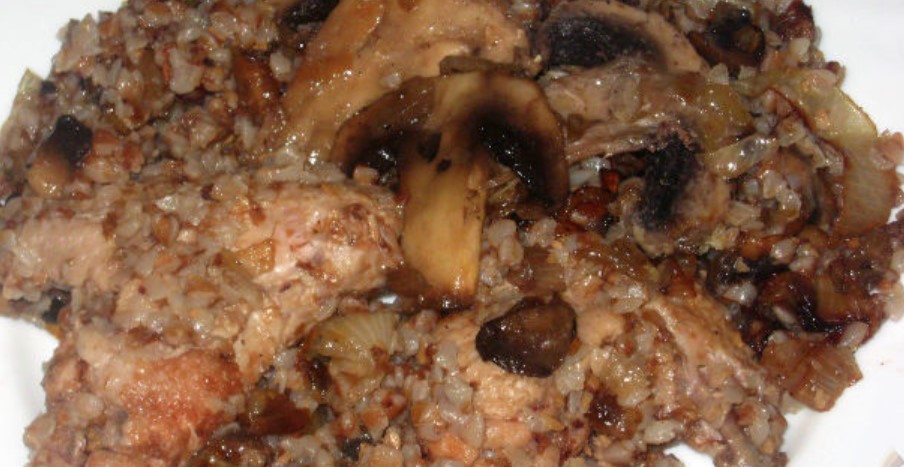 Buckwheat with chicken wings and mushrooms is one of my family's favorite second choice for lunch. Try it and I hope you enjoy it.
Ingredients
Chicken wings – 500 g
Buckwheat – 2 tablespoon.
Water – 4 tablespoon.
Vegetable oil – 50 ml
Medium onions – 2 pcs.
Mushrooms – 300 g
Garlic – 2 teeth
Salt to taste
Spices for chicken – 0.5 teaspoon
Spices for mushrooms – 0.5 teaspoon
How to cook buckwheat porridge with chicken:
Directions
Heat vegetable oil in a cauldron or saucepan with thick walls.
Peel and cut one onion into cubes. Fry in oil until transparent.
Rinse and dry the wings. Add to the cauldron with onions and fry lightly.
Rinse the champignons, chop half of them coarsely (into 4-6 pieces depending on size), add to the cauldron, and fry everything together until golden brown, stirring occasionally. Season with salt, add spices.
Rinse the buckwheat by draining the water several times. Pour into the chicken, fry the buckwheat, and chicken for a minute.
Pour boiling water over buckwheat with chicken and mushrooms. Salt to taste. Cover and cook until the liquid evaporates. In principle, buckwheat porridge with chicken is already ready, but if desired, it can be improved.
Heat vegetable oil in a frying pan. Fry one onion, peeled and cut into small cubes, until golden brown.
Cut the remaining mushrooms into plates and fry with onions, adding salt, spices, and crushed garlic, until the liquid evaporates.
Mix porridge with fried mushrooms.
Buckwheat porridge with chicken and mushrooms is ready. Enjoy your meal!
Also Like
Comments for "Buckwheat Porridge with Chicken Wings and Mushrooms"