Buckwheat Casserole with Minced Chicken and Mushrooms
by Editorial Staff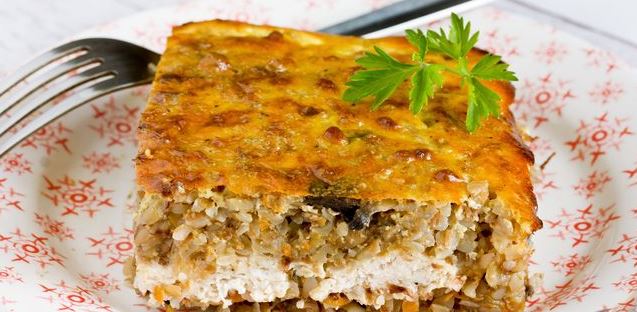 Buckwheat casserole with minced chicken and fried mushrooms, carrots, and onions turns out to be hearty and is perfect for home lunch or dinner. Thanks to the filling of sour cream, cream, and eggs, the casserole turned out to be juicy and tender, and also perfectly holds its shape when cut into portions.
Cook: 30 mins
Servings: 4
Ingredients
Food (for 4 servings)
Buckwheat groats – 150 g
Chicken fillet – 300 g
Champignons – 160 g (4 pcs.)
Bulb onions – 1 pc.
Carrots – 1 pc.
Eggs – 2 pcs.
Sour cream – 200 g
Cream, 10% fat – 100 ml
Garlic – 1 clove
Salt to taste
Ground black pepper – to taste
Sunflower oil (for frying) – 40 ml
Directions
Prepare the required ingredients. You can also use buckwheat porridge leftover after lunch or dinner and ready-made minced chicken. Then the dish will cook faster.
Pour 400 ml of water into a saucepan and bring to a boil, add salt. Rinse the buckwheat thoroughly and add to boiling water. Bring the water to a re-boil, reduce the heat and cook buckwheat under the lid for about 20 minutes, until the water is tender and completely evaporated.
While buckwheat is cooking, prepare the rest of the products. Peel and wash onions and carrots. Cut the onion into small cubes and grate the carrots on a coarse grater.
Heat sunflower oil in a skillet and fry the onions and carrots over high heat, stirring frequently, for about 4 minutes.

Cut the champignons into small pieces (or cubes), having previously peeled and impurities.
Add mushrooms to onions and carrots and continue to fry over high heat for another 5 minutes.
Then remove the pan from the stove. Transfer the prepared buckwheat porridge to the pan. Add the minced garlic clove. Stir buckwheat with mushrooms. Turn on the oven to heat up to 180 degrees.
Cut the chicken fillet into pieces and mince it. Season the minced chicken with salt and black pepper and stir.
To pour, combine eggs, sour cream, cream, salt, and black pepper. Stir the pouring ingredients with a whisk until smooth.

Put half of the buckwheat with mushrooms in a baking dish (the size of my mold is 19×22 cm) and smooth the surface, lightly compacting the layer with a spoon.
Put the minced chicken on the buckwheat, evenly distributing it over the entire surface. Put the remaining buckwheat on a layer of minced chicken. Also, flatten this layer with a spoon.
Fill the layers with fill on top. Use a sharp knife to make frequent punctures throughout the thickness of the layers so that the fill will saturate them. Bake the dish in the preheated oven for 40 minutes (be guided by your oven).
Buckwheat casserole with minced chicken and mushrooms is ready. Cut the casserole into portions and serve. Pickled cucumbers or vegetable salad are perfect for such a buckwheat casserole.
Also Like
Comments for "Buckwheat Casserole with Minced Chicken and Mushrooms"