Buckwheat Casserole with Mushrooms
by Editorial Staff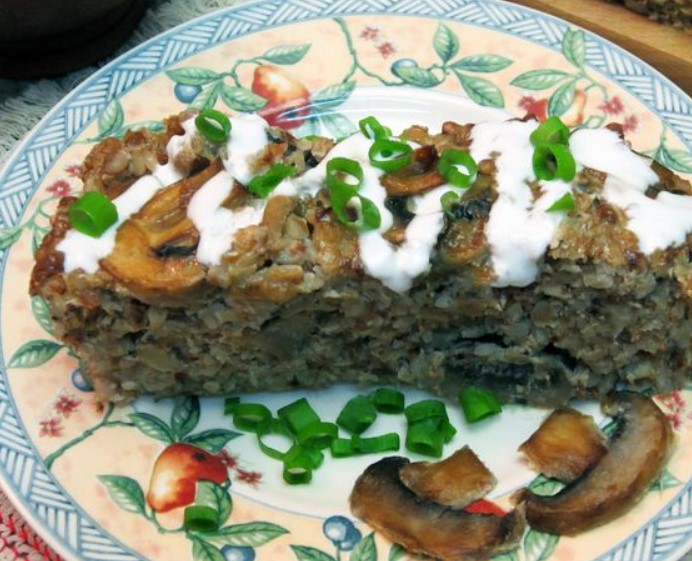 An excellent dinner made from simple products – buckwheat and mushrooms. For buckwheat casserole with mushrooms, you can use both freshly prepared buckwheat and the remaining one from the previous day, which is very convenient.
Servings: 6
Ingredients
Buckwheat groats – 200 g
Champignons – 300-350 g
Bulb onions – 1 pc. (90 g)
Eggs – 3 pcs.
Sour cream – 100 g
Vegetable oil – 45 ml
Ground black pepper – to taste
Salt to taste
For filling:
Sour cream – to taste
Green onion – 3 feathers
Directions
We prepare the necessary products.

We wash the buckwheat, pour 500 ml of water, and add 1 teaspoon of salt.
After boiling, reduce the heat and over low heat, stirring occasionally, cook buckwheat for 15-20 minutes, until tender. Buckwheat should be crumbly. We leave the finished buckwheat to cool.
Peel the onions, cut into cubes.
Wash the mushrooms and cut them into slices or slices.
Pass the onion in a frying pan preheated with 30 ml of vegetable oil for 3-4 minutes, until soft.
Put mushrooms in a pan with onions.
Fry the mushrooms for 10-15 minutes, until lightly browned. Salt the mushrooms to taste a couple of minutes before cooking.

Break eggs into a bowl, add sour cream, salt, and black pepper.
With a whisk or at low speed of the mixer, mix the eggs with sour cream until smooth.
Add buckwheat and mushrooms to the mixture.
Mix everything until smooth.
Put the mixture of buckwheat and mushrooms in a form greased with vegetable oil.
We put the form in an oven preheated to 180 degrees and bake buckwheat porridge with mushrooms for 20-25 minutes.

Let the buckwheat and mushroom casserole cool slightly, sprinkle with chopped green onions and serve with sour cream.

Enjoy your meal!
Also Like
Comments for "Buckwheat Casserole with Mushrooms"