Buckwheat with Creamy Mushroom Sauce
by Editorial Staff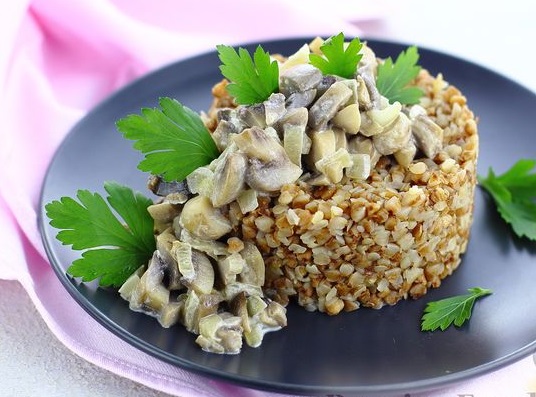 You don't have to buy meat to make a hearty and tasty lunch or dinner. Buckwheat with creamy mushroom sauce will certainly delight everyone at home with its unique and very delicate taste. The sauce is simply magnificent thanks to the harmonious union of mushrooms with cream.
Ingredients
Champignons or oyster mushrooms – 300 g
Buckwheat groats – 200 g
Onions – 180 g
Cream with 10% -30% fat content – 200 ml
Vegetable oil – 2 tbsp
Water – 400 ml
Salt to taste
Directions
Prepare all food. It is better to use mushrooms that cook quickly (champignons or oyster mushrooms). The cream is suitable with a fat content of 10-30%.

Wash the champignons well with running water, carefully looking at each mushroom. Leave in a colander to drain all the liquid.
Peel, wash, and pat dry with a paper towel. Cut into small cubes.
Heat vegetable oil in a deep skillet. Add the chopped onion. Fry over low heat for 6-7 minutes, until transparent.
Cut the champignons together with the legs into small pieces.
Add the mushrooms to the onion skillet. Stir. Fry for 6-7 minutes over high heat. During this time, all the resulting liquid should evaporate.
Rinse the buckwheat well with running water. Transfer to a saucepan. Pour in water and add a little salt. Bring to a boil. Cook over moderate heat for 15-20 minutes, until buckwheat is cooked. All the water should evaporate, and the buckwheat should become crumbly.
Pour the cream into a pan for mushrooms and onions. Season with salt to taste. Stir. Cook from the moment of boiling for 6-7 minutes over low heat, covered with a lid.
Creamy mushroom sauce is ready. Try it. If necessary, adjust the taste to your liking.
Buckwheat is ready. 15-20 minutes was enough for the porridge to cook.
Serve buckwheat to the table immediately after cooking, pouring creamy mushroom sauce.
Bon Appetit!
Also Like
Comments for "Buckwheat with Creamy Mushroom Sauce"