Buckwheat Casserole (in a Slow Cooker)
by Editorial Staff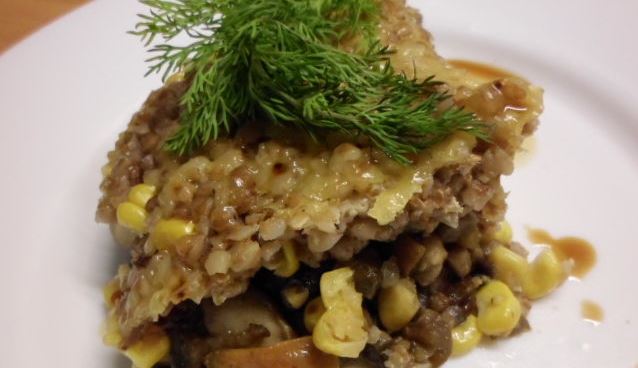 Do your children or husband twist their noses when they hear that buckwheat again? Surprise them by preparing an easy-to-prepare buckwheat casserole, which also includes chicken fillet with mushrooms, onions, and corn. Hearty, tasty, and most importantly healthy.
Cook: 20 minutes
Servings: 4
Ingredients
Buckwheat – 1 glass
Chicken thigh – 1 pc.
Mushrooms – 150 g
Onions – 1/2 pc.
Canned corn – 150 g
Cheese – 50 g
Egg – 1 pc.
Sunflower oil – 2 tbsp
Butter – 1 tbsp
Salt to taste
Directions
The first thing we start our preparation of the future casserole with is that we send buckwheat to the bottom of the multicooker bowl. Before sending, we rinse it 3 times so that there are no excess scales left. Add a tablespoon of butter, salt. We close the lid. We set the "buckwheat" mode (someone has "rice") and forget about it for 40 minutes.
Cut half the onion into half rings. We disassemble the meat, cut it in a way convenient for you. We shred the mushrooms.
After completing the cooking of buckwheat, wash the bowl, pour 2 tablespoons of sunflower oil. We send onions, mushrooms, and meat there, cook until all the liquid from the mushrooms evaporates. Salt and stir. It took me 35 minutes to complete it.
When the frying is done, add the canned corn.
Pour 1 egg into a tray with ready-made buckwheat and salt to taste. Mix everything thoroughly.

Distribute the buckwheat porridge evenly. Rub the cheese on a medium grater.
Put the cheese on top of the buckwheat. We set the "baking" mode, 15-20 minutes will be enough for the cheese to melt and the egg to hold the porridge together.
Our casserole is ready.
Bon Appetit!
Also Like
Comments for "Buckwheat Casserole (in a Slow Cooker)"