Cauliflower and Broccoli Casserole with Ham (in a Slow Cooker)
by Editorial Staff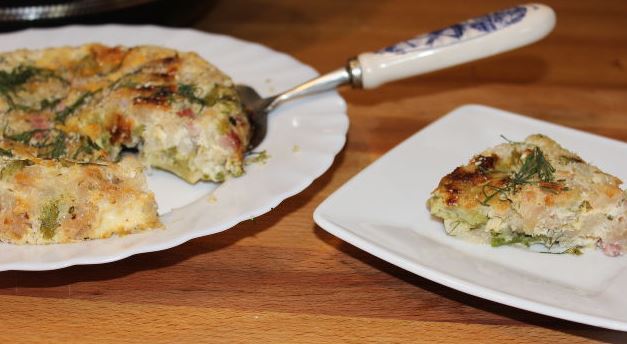 Cauliflower and broccoli casserole is a nutritious and healthy dish. Thanks to the addition of ham and cheese, it is satisfying. It is convenient to cook a casserole in a slow cooker.
Cook: 1 hour 20 minutes
Servings: 4
Ingredients
Cauliflower – 400 g
Broccoli – 200 g
Ham – 150 g
Hard cheese – 60 g
Cream – 100 g
Butter – 40 g + for greasing the mold
Bread crumbs – for sprinkling the mold
Water (for steaming) – 500 ml
Salt – 1 teaspoon
Ground black pepper – to taste
Greens (optional) – for decoration
Directions
Pour water into the multicooker bowl, install the steamer tab, put all the cabbage in it.

Cook for 15 minutes in the "Steamer" mode.
At this time, cut the ham.
Grate the cheese on a coarse grater. Melt the butter, pour in the cream, and add two eggs. Season with salt, pepper, whisk everything. Add cheese to the creamy egg mixture.
After the cabbage is ready, cut it into smaller pieces.

Combine the cabbage with ham and cream cheese mixture.
Grease the multicooker bowl well with butter and sprinkle with breadcrumbs. Place the food mixture in a bowl and bake the broccoli and cauliflower casserole in Bake mode for exactly 1 hour.
After the multicooker signal, cool the casserole, and then remove it from the bowl. Tip: it is convenient to remove the casserole from the multicooker bowl using the steamer insert or flat plate of the appropriate dia.

Sprinkle dill or parsley on the cauliflower and broccoli casserole and invite everyone for dinner.
Enjoy your meal!
Also Like
Comments for "Cauliflower and Broccoli Casserole with Ham (in a Slow Cooker)"