Carrot Casserole with Breadcrumbs (in a Slow Cooker)
by Editorial Staff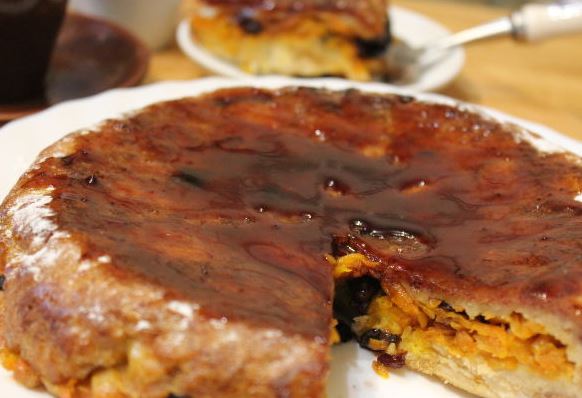 Sweet carrot casserole with breadcrumbs cooked in a multicooker is a great dessert that will appeal to both children and adults.
Cook: 1 hour 15 minutes
Servings: 8
Ingredients
Carrots (large) – 2 pcs.
Butter – 40 g
Rusks – 200 g
Sugar – 1 tbsp
Raisins – 50 g
Egg – 1 pc.
Jam (or powdered sugar) – for decoration
Water (for soaking croutons) – 100 g
Directions
Soak crackers in boiling water and leave for a few minutes to soften. Grate carrots on a coarse grater.

Turn on the multicooker in the "Baking" mode for 15 minutes. Melt 20 g butter and lightly sauté the carrots.
At the end of sautéing add raisins and half a tablespoon of sugar. Put the finished carrots on a plate, do not wash the multicooker bowl.
Melt the rest of the butter, mix with the egg. Pour into crackers and mix.
Just in case, to make it easier to remove the casserole, put parchment in the multicooker bowl. Lay prepared products in layers: a layer of rusks. Then a layer of carrots. And put the crackers again

Bake the carrot casserole in a slow cooker in the "Bake" mode for 40 minutes. Cool and gently remove the carrot casserole from the multicooker bowl.
Decorate the carrot casserole with jam or icing sugar. The carrot casserole is ready, I recommend everyone to try it, delicious!
Bon Appetit!
Also Like
Comments for "Carrot Casserole with Breadcrumbs (in a Slow Cooker)"