Slow Cooker Cheesecake
by Editorial Staff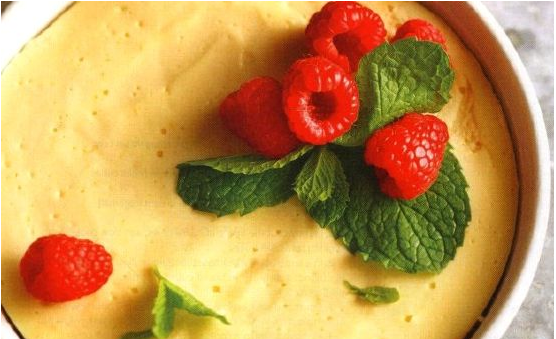 In a slow cooker, you can make a wonderful cheesecake without the fear that it may burn.
Ingredients
Vegetable oil for mold lubrication
Cream cheese (softened) – 300 g
White sugar – 1/2 cup
Fresh lemon juice – 2 tbsp
Flour – 1 tbsp
Vanilla extract – 1/2 teaspoon
Sour cream – 1/2 cup
Eggs (slightly beaten) – 3 pcs.
Small lemon zest – 2 teaspoon.
Warm water – 1 glass
Fresh raspberries for serving (optional)
Mint leaves for serving (optional)
Directions
Lubricate a 1-liter mold with oil. Cut a 30×45 centimeters rectangle out of foil, cut in half. Roll each rectangle into a thin strip, and then fold these two strips crosswise and stretch under the form so that the ends are higher than the form (for them you will then lower the form into a slow cooker).
In a large bowl, combine cream cheese, sugar, lemon juice, flour, and vanilla. Beat with a mixer on medium speed until smooth. Add sour cream, stir, then add eggs, beat on a slow speed until smooth, add lemon zest, stir.
Put the creamy mass in the prepared dish, cover with foil. Pour 1 glass of warm water into the bowl of a slow cooker and immerse the soufflé dish into it (holding onto the foil strips).
Close the slow cooker and cook the cheesecake on high power for 2.25-2.75 hours.
Remove the cheesecake from the slow cooker, remove the foil strips, cool the dessert slightly at room temperature, and then put the cheesecake in the refrigerator for 4-24 hours. Serve chilled cheesecake with berries and mint leaves (optional).
Bon Appetit!
Also Like
Comments for "Slow Cooker Cheesecake"