Chickpea Stew (Slow Cooker)
by Editorial Staff
It is convenient and delicious to cook such chicken stew with vegetables in a slow cooker.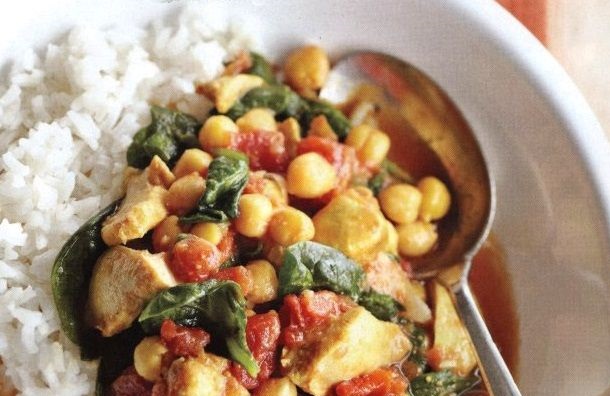 Servings: 8
Ingredients
Skinless chicken thighs (cut into 2.5 cm pieces) – 900 g
Onions (finely chopped) – 1/2 cup (1 pc.)
Garlic (chopped) – 3 cloves
Curry powder – 5 teaspoon
Ground ginger – 2 teaspoon
Salt – 1/2 teaspoon.
Ground black pepper – 1/4 teaspoon.
Canned chickpeas (chickpeas) (washed and drained) – 900 g
Canned tomatoes without skin (sliced) – 800 g
Chicken broth – 1 glass
Bay leaf – 1 pc.
Lime juice – 2 tbsp
Fresh spinach – 260 g
Cooked rice (hot) – 4 cups (optional)
Odorless vegetable oil
Directions
Grease a slow cooker bowl with vegetable oil. Place chicken, onion, and garlic in a slow cooker sprinkle with curry powder, ginger, salt, and black pepper, and stir. Add peas, tomatoes, bay leaf to a slow cooker and pour over the chicken stock.
Close slow cooker and cook on low power for about 8-10 hours or on high power for 4-5 hours. Add lime juice and spinach to the finished dish, close the lid, let stand for 2-3 minutes, until the spinach withers.
Serve well the chicken stew with boiled hot rice (optional).
Enjoy your meal!
Also Like
Comments for "Chickpea Stew (Slow Cooker)"