Summer Vegetable Stew (in a Slow Cooker)
by Editorial Staff
For dinner, you can make a stew with summer vegetables in a slow cooker.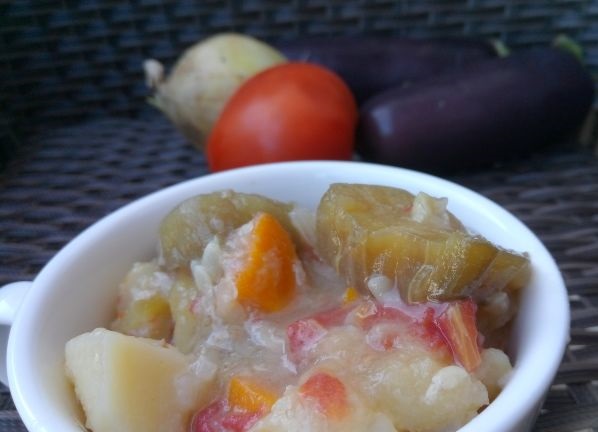 Ingredients
Potatoes – 2-3 pcs.
Eggplant – 2-3 pcs.
Bulb onions – 1 pc.
Carrots – 1-2 pcs.
Zucchini – 1 pc.
Tomatoes – 1 pc.
Water – 1-2 glasses
Salt – 1 teaspoon
Vegetable oil – 1 tbsp
Directions
Peel the eggplants, add water, leave for 15-20 minutes to release the bitterness.
Peel the onion and chop finely.
Peel, wash, and chop the carrots.
Turn on the multicooker, setting the "Fry" mode for 10 minutes. Heat oil. Put onions and carrots, mix. Fry while stirring.

Peel the potatoes, wash and cut into cubes.
Place the potatoes on top of the fried vegetables.
Pour water over so that it covers the potatoes. Transfer the multicooker to the "Stew" mode, cook for 5-8 minutes.

Peel the zucchini, wash and cut into thick semi-circular slices.
Put a layer of eggplant on the potatoes.

And on top – zucchini. Cover. Cook for another 5 minutes.
Chop the tomatoes.
Put the tomatoes on the zucchini, salt. Cover and cook for another 10 minutes.
The vegetable stew is ready.
Enjoy your meal!
Also Like
Comments for "Summer Vegetable Stew (in a Slow Cooker)"