Barley Porridge with Meat and Vegetables (in a Slow Cooker)
by Editorial Staff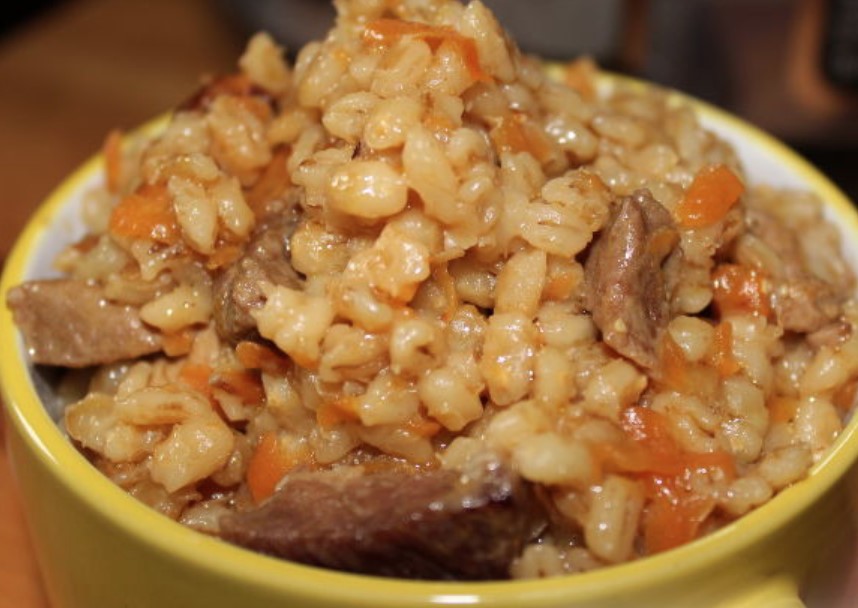 Barley porridge in a slow cooker is cooked for an hour, barley is well boiled, and barley porridge with meat and vegetables is a hearty and tasty dish for dinner.
Ingredients
Pearl barley – 200 g
Meat (lean pork) – 250 g
Carrots – 1 pc.
Bulb onions – 1 pc.
Vegetable oil – 50 g
Salt to taste
Seasoning for frying meat – to taste
Water – 500 ml
Directions
Soak pearl barley for 3 hours in cold water.
Cut the meat into small pieces.
Grate the carrots on a coarse grater.
Finely chop the onion.
Turn on the multicooker in the "Fry" mode for 18 minutes.
Pour vegetable oil into the multicooker bowl, put the meat, carrots, and onions in a minute.

After the "Frying" program is over, add barley to the bowl to the meat and vegetables.
Pour in water, salt, and a season for the meat to taste.
Switch on the "Rice/cereals" mode, set the time to 50 minutes.
At the end of the program, let the pearl barley porridge stand in a multicooker for about 20 minutes in the "Heating" mode. After that, barley porridge with meat and vegetables can be served.
Enjoy your meal!
Also Like
Comments for "Barley Porridge with Meat and Vegetables (in a Slow Cooker)"