Meat Hodgepodge with Kidneys (in a Slow Cooker)
by Editorial Staff
A variety of meat products, including kidneys, are useful for cooking hodgepodge. Preparing meat hodgepodge with kidneys in a slow cooker.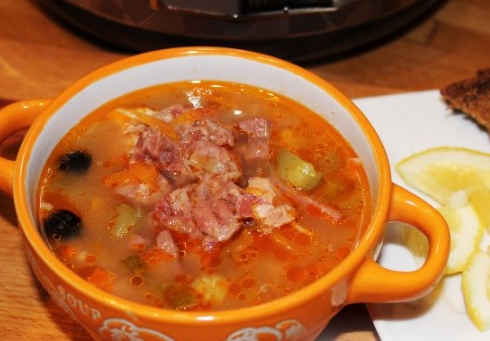 Cook: 3 hour
Ingredients
Beef (with bone) – 300 g
Pork – 200 g
Kidneys – 200 g
Ham – 200 g
Smoked sausage – 200 g
Carrots – 1 pc.
Pickled cucumbers – 2 pcs.
Bulb onions – 1 pc.
Olives – 100 g
Tomato paste – 2 tablespoons
Salt to taste
Pepper (peas) – to taste
Bay leaf – 2 pcs.
Vegetable oil (for frying) – 50 ml
Lemon (for serving) – to taste
Sour cream (for serving) – to taste
Water – 2.5 l
Directions
Prepare products for meat hodgepodge with kidneys.
It is advisable to soak the kidneys in water in advance (at least 4 hours, in the refrigerator), changing the water every hour.

Put the meat in a multicooker bowl and add water.

Switch on the "Multipolar" mode for 120 minutes, set the temperature to 100 degrees. If there is no such mode, then set the "Soup" mode and cook the meat for exactly 2 hours.
Grate the carrots.
Cut the onion into cubes.
Cut the cucumbers.
In a separate frying pan, lightly fry the carrots and onions until golden brown. Then add and fry the cucumbers. At the end of frying, add tomato paste, mix everything, and keep on fire for another 5 minutes.
Slice the kidneys.
Fry them well.
Chop the sausage and ham.
After 2 hours of cooking, remove the meat from the multicooker and cut it into small pieces.
Put the meat back in the bowl, add vegetables, kidneys, ham, and sausage.
Continue cooking the hodgepodge in the Soup mode for another 40 minutes.
Chop the olives and add to the hodgepodge for 10 minutes until tender.
3 minutes before the signal, add salt, toss pepper and bay leaf into the hodgepodge.
Fragrant meat hodgepodge with kidneys, in a slow cooker, ready.
You can call the household for dinner.

Before serving, put half a slice of lemon and sour cream in a plate with meat hodgepodge.
Have a good lunch!
Also Like
Comments for "Meat Hodgepodge with Kidneys (in a Slow Cooker)"