Pasta Casserole with Ham (in a Slow Cooker)
by Editorial Staff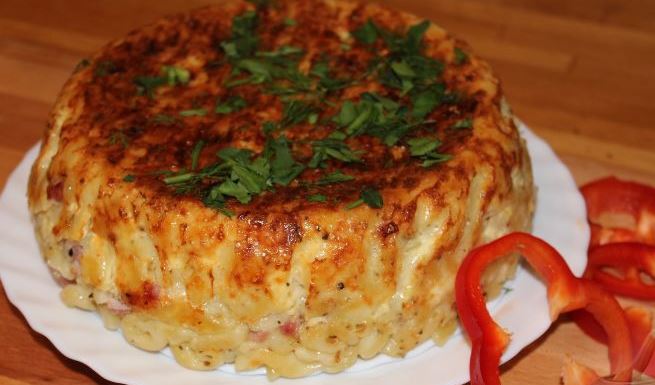 The pasta casserole with ham and cheese is my children's favorite dish. Hearty, original, and beautiful. And if you cook a pasta casserole in a slow cooker, then it's also easy to prepare.
Ingredients
Pasta – 400 g
Mozzarella cheese – 150 g
Ham – 150 g
Egg – 1 pc.
Cream 33% – 250 g
Butter – 50 g
Oregano (dry spice) – 2 g (0.5 teaspoon)
Salt – 1 teaspoon
Greens (dill and parsley) – to taste
Directions
Boil the pasta in salted water. They should be slightly hard. Drain the water.
Prepare the dressing: grate the cheese on a fine grater. Cut the ham into small cubes. Combine cheese, ham, egg, and oregano.

Pour in the cream and melted butter, salt, and stir. Grease a multicooker bowl with butter. Mix pasta with dressing and place in a bowl.
Cook the pasta casserole in a slow cooker for 45 minutes in the "Bake" mode. After 45 minutes, open the multicooker and cool the pasta and ham casserole for 10-15 minutes, then carefully remove, sprinkle with finely chopped herbs.
The slow cooker pasta casserole is ready. Here's what happened. Invite your loved ones to the table!
Also Like
Comments for "Pasta Casserole with Ham (in a Slow Cooker)"