"Bistro" – Buckwheat with Liver and Mushrooms
by Editorial Staff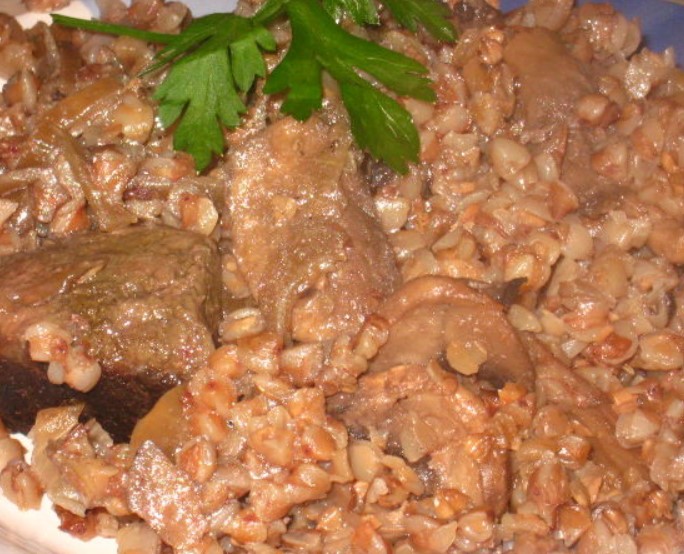 Buckwheat with liver and mushrooms in pots – quick and tasty.
Servings: 2
Ingredients
Veal liver – 400 g
Mushrooms – 200 g
Bulb onions – 1 pc.
Broth – 250 ml
Sour cream – 100 ml
Buckwheat – 1 tablespoon.
Salt to taste
Black pepper – to taste
Bay leaf – 3 pcs.
Directions
Prepare food at the bistro
Rinse buckwheat , add water and put on fire. Salt.
When the water boils off, turn off the stove. Buckwheat will be undercooked.
Wash the liver, dry with a napkin, slightly beat off, cut into small pieces, fry in heated vegetable oil on both sides.

Peel the onion, cut into half rings. Fry with liver until transparent.
Cut the mushrooms into plates. Fry lightly with onion and liver.
Add 1 tablespoon to the liver with vegetables. sour cream, melt it. Remove from heat and only now add salt and pepper.
Divide buckwheat into 3 pots equally.
Lay out the liver with the next layer.
Add 1 tablespoon to each pot. sour cream, bay leaf and pour the broth.

We send buckwheat with liver in pots for 30 minutes in an oven preheated to 180 degrees.
Buckwheat with liver and mushrooms is ready.
Enjoy your meal!
Also Like
Comments for ""Bistro" – Buckwheat with Liver and Mushrooms"