Buckwheat Casserole with Chicken Liver, Vegetables and Cheese
by Editorial Staff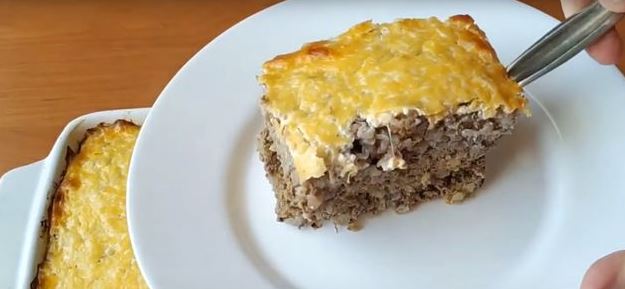 Buckwheat is one of my favorite cereals. Everyone knows that dishes made from it are useful for both adults and children. How delicious to cook cereals has been known for a long time. And today I want to propose a recipe for a delicious casserole, the main ingredient of which will be buckwheat porridge. Tasty, simple, and uncommon. A casserole can be a hearty and healthy meal option for the whole family.
Cook: 45 minutes
Servings: 6
Ingredients
Buckwheat groats – 1 glass (capacity 250 ml)
Water – 2.5 cups (250 ml capacity)
Butter – 80 g
Eggs (large) – 2 pcs.
Salt to taste
Chicken liver – 500 g
Bulb onions – 1 pc. (100 g)
Carrots – 1 pc. (100 g)
Vegetable oil – 5 tbsp
Hard cheese – 100 g
Sour cream – 4 tbsp
Salt to taste
Ground black pepper – to taste
Vegetable oil – for lubricating the mold
Directions
Pour the groats with 2.5 glasses of water and put them on fire. Cook buckwheat until tender, about 15-20 minutes. In the process of cooking, salt the buckwheat to taste.
Chop the onion. We grate the carrots on a coarse grater.
We clean the liver from films, cut it into pieces. Fry in vegetable oil until tender, 10-15 minutes. Salt and pepper to taste.

Fry carrots and onions in vegetable oil for 5-7 minutes. Grind carrots, onions, and liver into a homogeneous mass with a blender.
Add butter to hot buckwheat and let it melt, covered with a lid. Cool the cereal. Mix eggs and salt with a whisk.
Add eggs to buckwheat and mix. Preheat the oven to 180 degrees.
Grease the baking dish with oil and put half of the buckwheat, on it – the liver. Then we distribute the remaining buckwheat.
We compact the layers. Rub the cheese on a coarse grater. Add sour cream to the cheese, mix.
Put cheese and sour cream on top of the casserole. It is convenient to do this with a fork so that everything is well distributed.
We send the casserole to the oven, preheated to 180 degrees, until a golden crust forms. It will take a little time (20-25 minutes) since all the products in the casserole are ready.
Ready buckwheat casserole with chicken liver, vegetables and cheese let stand for 15-20 minutes and can be sliced ​​in portions and served. All good!
Also Like
Comments for "Buckwheat Casserole with Chicken Liver, Vegetables and Cheese"