Mashed Potato Casserole with Chicken Liver
by Editorial Staff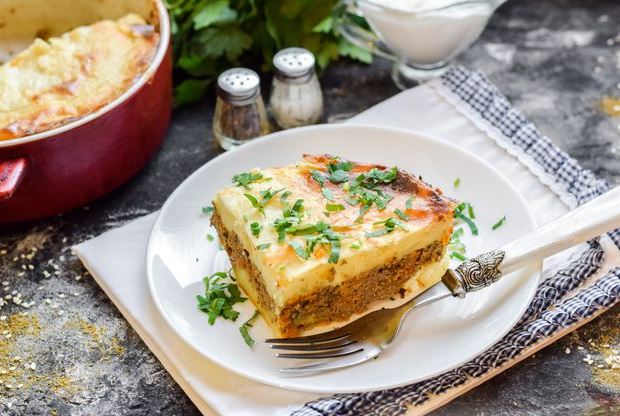 Today I bring to your attention an appetizing and hearty casserole made from mashed potatoes with chicken liver. We make mashed potatoes from the potatoes, first boil the liver, then chop and fry with carrots and onions. It turns out very tender, satisfying, and aromatic.
Cook: 40 minutes
Servings: 4
Ingredients
Potatoes – 600 g
Chicken liver – 400 g
Eggs – 2 pcs.
Onions – 70 g
Carrots – 70 g
Butter – 50 g
Sour cream – 4 tbsp
Vegetable oil – 3 tbsp + for preparing the mold
Dried thyme – 0.5 teaspoon
Hops-suneli – 0.5 teaspoon
Ground paprika – 0.5 teaspoon
Salt to taste
Ground black pepper – to taste
Directions
Cut the potatoes into random pieces. Transfer the potatoes to a saucepan, add water, cook for 25-30 minutes, until tender. Drain the water from the finished potatoes, add salt and mash the potatoes in mashed potatoes. Add butter.

Stir the mashed potatoes well until smooth. Leave the potatoes aside for a while.
Pour the chicken liver into a saucepan with water and boil for 10 minutes. Throw the lever on a sieve, let the water drain.
Then transfer the liver to a blender bowl, grind at medium speed. Cut the onions into small cubes. Grate the carrots on a medium grater.
Heat the pan and pour in vegetable oil. Place the onions and carrots. Fry for 3-4 minutes, stirring occasionally. Turn on the oven to heat up to 180 degrees.
Add liver, salt, black pepper, paprika, thyme, and hops-surely to the onions and carrots. Stir everything and fry for 3-4 minutes, stirring constantly. Lightly grease a heatproof oven dish, put half of the mashed potatoes.

Put a layer of fried liver on top of the potatoes. Cover the filling with the remaining mashed potatoes and smooth the surface.
Brush a layer of mashed potatoes with sour cream. Bake the dish in a preheated oven for 35 minutes at 180 degrees. After a while, remove the form from the oven. Mashed potato casserole with chicken liver is ready.

Potato casserole can be served with homemade pickles, fresh vegetables, herbs.
Enjoy your meal!
Also Like
Comments for "Mashed Potato Casserole with Chicken Liver"