Buckwheat Casserole with Boiled Eggs, Vegetables and Cheese
by Editorial Staff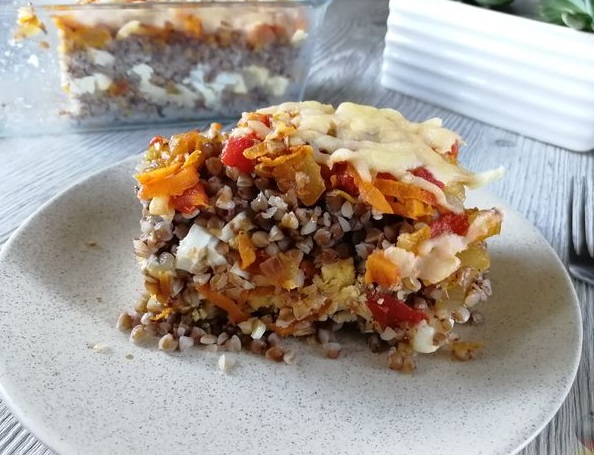 How to make the usual buckwheat porridge great? Make a casserole out of it! An incredibly simple recipe for unsweetened buckwheat casserole with boiled eggs, vegetables, and cheese. Believe me, your family will definitely like this way of using buckwheat porridge!
Ingredients
Buckwheat groats – 160 g
Hard cheese – 70 g
Eggs – 3 pcs.
Tomato – 1 pc.
Carrots – 1 pc.
Bulb onions – 1 pc.
Salt to taste
Ground black pepper – to taste
Vegetable oil (for frying vegetables) – 2 tbsp
Butter (for greasing the mold) – 20 g
Directions
We prepare all the necessary ingredients. If you have already cooked buckwheat, use it – this will significantly save the cooking time of the casserole. Buckwheat porridge will need about 550 grams.

Pour buckwheat groats with 400 ml of water (the ratio of groats: water – 1: 2.5), add a pinch of salt. After boiling, cook buckwheat over medium heat for about 15-20 minutes, until tender.
Pour the eggs with water and cook for about 8-10 minutes after boiling. Then pour boiled eggs with cold water and leave to cool.
Rub the peeled carrots on a coarse grater. Cut the peeled onion into small cubes.
Heat vegetable oil in a skillet over medium heat. Fry the carrots and onions until soft, about 7-10 minutes.
Cut the tomato into cubes.
We send the tomato to the pan with carrots and onions and cook for another 1-2 minutes.
Rub the cheese on a coarse grater.
Peel the eggs and cut them into small cubes.
We turn on the oven to heat up to 200 degrees. Grease the baking dish with butter.
We spread half of the buckwheat porridge into a mold.
Layer half of the grated cheese, half of the vegetables, and chopped eggs on top of the buckwheat.
Put the remaining buckwheat, vegetables on top and sprinkle with the remaining grated cheese. We send it to the preheated oven for 15-20 minutes.
A simple and delicious casserole made from buckwheat porridge, vegetables, and boiled eggs is ready. You can cool the casserole slightly and serve immediately.

And if you allow the casserole to cool completely in the mold, then it will keep its shape better and you can cut it into neat pieces. In addition, the cold casserole is no worse than warm.
Bon Appetit!
Also Like
Comments for "Buckwheat Casserole with Boiled Eggs, Vegetables and Cheese"