Meat Zrazy with Cheese and Boiled Eggs
by Editorial Staff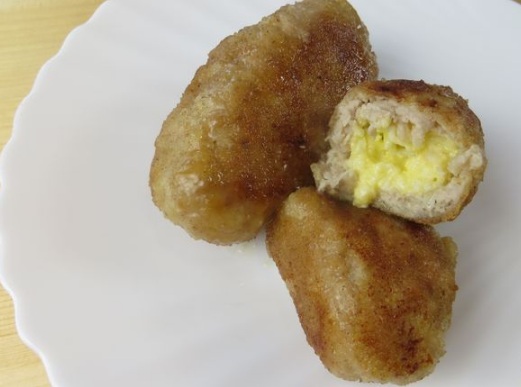 There are a huge number of minced meat recipes, all different, many delicious! Today – one of my favorites. Meat zrazy with a very interesting filling – cheese and boiled eggs! Meat zrazy with cheese and boiled eggs are prepared easily, they will go with any side dish!
Ingredients
Minced meat – 600 g
Bulb onions – 1 pc.
Bread – 2 slices
Milk – 100 ml
Salt to taste
Ground black pepper – to taste
For filling:
Hard cheese – 100 g
Boiled eggs – 2 pcs.
Butter (frozen) – 40 g
For breading:
Eggs – 2 pcs.
Bread crumbs – 100 g
Salt – a pinch
For frying:
Vegetable oil
Directions
Soak the loaf without crusts in milk, then squeeze it out of the liquid well.
Rub the onion on a coarse grater. Add minced meat, salt, black pepper, and bread to the onion. Mix well and let the minced meat stand for 20 minutes (let it marinate).
Rub the cheese, boiled eggs, and butter on a fine grater. Mix well.
We form small sausages from the filling.

From minced meat (best of all on cling film) we make a small cake. Put the filling in the center of the cake.

We wrap it – we get "cigars" from minced meat with a filling inside.

Prepare to bread quickly. Shake eggs and salt with a fork.
Dip the meat zrazy in eggs and roll in breadcrumbs.
We turn on the oven to heat up to 200 degrees.
Fry meat zrazy with cheese and boiled eggs in a little vegetable oil until an appetizing golden-brown crust on all sides. Then we send minced meat zrazy with cheese and boiled eggs to a preheated oven for 20 minutes.

Everything turns out to be incredibly juicy: both the minced meat and the filling! Today for a side dish – boiled potatoes, sprinkled with dill! Cook to your health!
Also Like
Comments for "Meat Zrazy with Cheese and Boiled Eggs"