Potato Zrazy with Meat
by Editorial Staff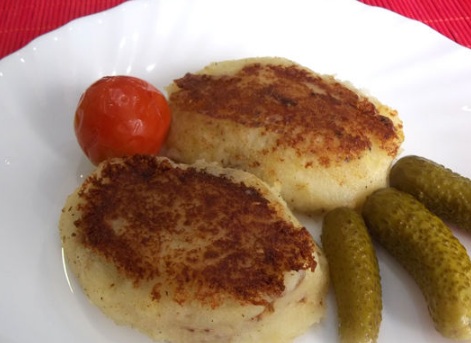 The classic filling for potato zraz is meat. It was zrazy with meat that I decided to cook today and tell you how I made them.
Ingredients
Potatoes – 5 pcs.
Egg – 1 pc.
Pork – 400 grams
Onions – 2 pcs.
Butter – 20 grams
Garlic – 1 pc.
Bay leaf – 3 pcs.
Salt to taste
Vegetable oil – for frying
Directions
Peel potatoes, onions, and garlic wash, and place in a saucepan.
Pour in water, add bay leaf and cook. After about 20 minutes, pierce the potatoes with a fork – if soft, remove them from the stove.
Drain the water, discard the onion and garlic, add the butter and pour the potatoes.
Add the egg and quickly stir in the puree.

Wash the meat, cut, and fry in vegetable oil. Peel the onion, wash, cut into half rings and after 10 minutes send to the meat. Season with salt and pepper 5 minutes before cooking.
Chop the meat with onions in any way convenient for you.

Take a small portion of the puree in your hand. Put the minced meat on top, cover with more mashed potatoes, and form the potato zrazy with meat in the form of cutlets.

Put the pan on the fire, pour in vegetable oil, heat it, put the potato zrazy with meat in the pan, and fry on both sides until golden brown.

It was so easy and simple that I got wonderful potato cutlets-zrazy with meat for dinner.
Also Like
Comments for "Potato Zrazy with Meat"