Potato Zrazy
by Editorial Staff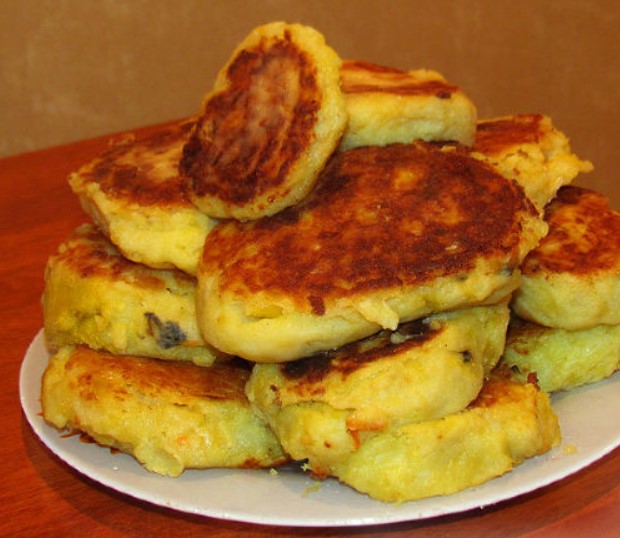 Potato zrazy with mushrooms, onions, carrots. And on top, be sure to mushroom gravy … Mmm! ..
Ingredients
Potatoes – 3-4 kg
Mushrooms (frozen, dried)
Carrots – 1-2 pcs.
Bulb onions – 2 pcs.
Flour – 2 tbsp
Vegetable oil
Salt
Directions
I defrosted our mushroom briquette. Here, the slimy slide is out of focus – they are exactly. :)) Plus there was a handful of dried ones for the sauce. And he took another frozen boletus leg. I am fasting, so there are no milk, eggs, or other nishtyaks of animal origin in the ingredients. You can add all this, it will be cool. 🙂
How to cook potato zrazy: First of all, we peel the potatoes (or it is possible in their uniforms) and set them to cook, I think this can not be illustrated. 🙂 Just don't forget to salt) Then we make the filling. In my case – mushrooms, carrots and onions, sautéed in vegetable oil. In your case, it can be anything you like – minced meat with mushrooms, you can cheese … or you can add cheese and puree, for example 🙂 … I dreamed of this))
At the same time, I set the mushrooms to boil for the sauce.

Meanwhile, potatoes are everything. We take a crush (5 minutes stupid, as they say) and crush, crush! Just kidding, of course, we will not crush, but crush, crush 🙂 Add a couple of tablespoons of vegetable oil to the potatoes, and I topped up a little water so that everything would be thinner. (In your case, it could be anything – milk, cream, pepsi, tomato juice.)
We sculpt zrazy. We take one part of mashed potatoes, flatten into a cake, stuffing on top, and cover with mashed potatoes. We roll in flour, that's all. You can probably make it in breadcrumbs … Or you could add butter … But it's so beautiful)
Arsenal of koloboks.
Well, here we are at the finish line – you can slowly fry the koloboks in a skillet. A bit of oil, less fire, and wait – how it will be fried on one side, then turn it over. Meanwhile, the mushrooms are boiled, do not drain the broth. He took out the mushrooms, cut them and fried them with an onion.

The sauce is also simple. We take a couple of tablespoons of flour, fry over low heat. When it becomes hazel – remove from heat.
Gently add the mushroom broth. We stir this business so that everything is free of lumps – and on the light. After 10 minutes – there fried mushrooms and onions, and another 10 minutes. Straighten it with salt, pepper, and everything is ok.
And you can eat! From the smells and temptation, by this time, I had already spit on a long time ago, therefore, only a couple of three potato arguments, I remembered the photo))
Bon appetit!
Also Like
Comments for "Potato Zrazy"