Potato Zrazy from Raw Potatoes with Meat
by Editorial Staff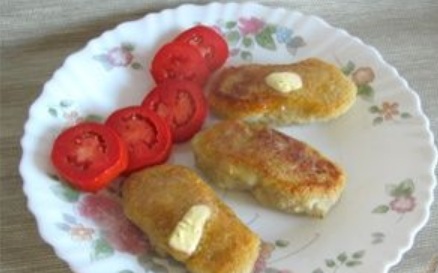 Potato zrazy – "in the heat of the heat", juicy, ruddy …
Ingredients
For 18-20 pieces:
Potatoes – 800-1000 grams of unpeeled
Minced pork and beef – 400 grams (from equal amounts of veal and lean pork)
Onion – 1 small head
Garlic – 1 clove
Salt, pepper, herbs – to taste
Egg – 1 pc.
Vegetable oil for frying – 2-3 tablespoon. (1 tablespoon per frying pan)
Butter to taste.
Directions
Grate potatoes. Some combines have special graters for potato pancakes, you can use them. If the graters are large, you can additionally grind the grated potatoes with a blender.
The mass should be doughy.
Squeeze the grated potatoes.
Do not pour out the squeezed juice – you can get an excellent starch from it, which cannot be compared with the purchased one (see above).
Put an egg, chopped garlic in grated potatoes, salt, and pepper, you can put a mixture of Provencal herbs. Prepare minced meat or take a ready-made, add finely chopped onion to it, salt and pepper.
Put a tablespoon of potato dough on gauze or a piece of other fabric (I use a piece of thin but dense tulle). Smooth the potatoes into a flat cake with a diameter of 8-10 cm. Put the minced meat on the potato flat cakes, about 2 heaped teaspoons each, and wrap the pie with a cloth. In this case, a certain skill is required, the potatoes must completely cover the minced meat, otherwise, the meat juice will flow out, and the zrazy will turn out to be dry.

Fry in vegetable oil for 2-3 minutes on each side.

Put a small piece of butter on hot potato zrazy. It is better to eat potato zrazy from raw potatoes "hot in the heat", you can reheat them, but this is not the same: the potatoes become slightly rubbery and there is no juice inside.
Also Like
Comments for "Potato Zrazy from Raw Potatoes with Meat"