Potato Zrazy with Eggplant
by Editorial Staff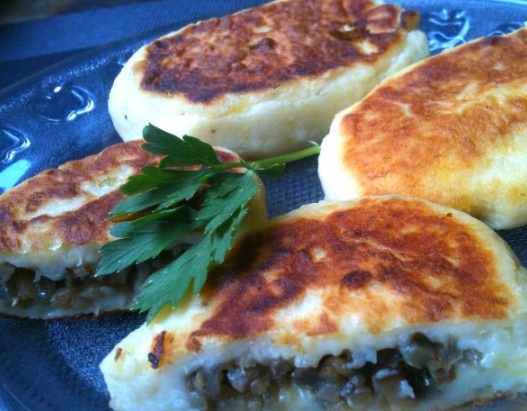 Summer potato zrazy stuffed with eggplant.
Servings: 3
Ingredients
Potatoes – 5-6 pcs.
Eggs – 1 pcs.
Flour – 4 tbsp
Salt – 1 teaspoon
Ground black pepper – 0.5 teaspoon
Eggplant – 1 pc.
Onions – 1 pc.
Parsley – 2-3 sprigs
Vegetable oil – 3-4 tbsp
Directions
Peel the potatoes, wash, cut and add cold water. Bring to a boil, salt (0.5 teaspoon). Cook for 20 minutes. Drain water, mash potatoes, and chill.
Wash the eggplants, cut off the tails and chop finely.

Peel, wash, and chop the onion.
Heat vegetable oil in a frying pan (3 tablespoons). Layout the vegetables. Fry over medium heat, stirring occasionally, until soft – 10-12 minutes).
Chop the herbs.
Add greens to the eggplant. Season with salt, pepper, mix.

Add an egg, flour (2-3 tablespoons), salt, and pepper to the cooled potatoes. Mix.

Divide the potato dough into egg-sized portions. Spread one serving into a flat cake with a depression in the middle. Put out 1-2 teaspoons of the filling, pinch the dough, shaping the zrazam. Roll in flour.

Heat vegetable oil (2 tablespoons). Post zrazy. Fry potato zrazy with eggplant for 3-4 minutes over medium heat (until golden brown).
Then turn the zrazy over and fry them on the other side until golden brown.

Potato zrazy with eggplants are ready. Enjoy your meal!
Also Like
Comments for "Potato Zrazy with Eggplant"