Potato Zrazy with cabbage and mushrooms
by Editorial Staff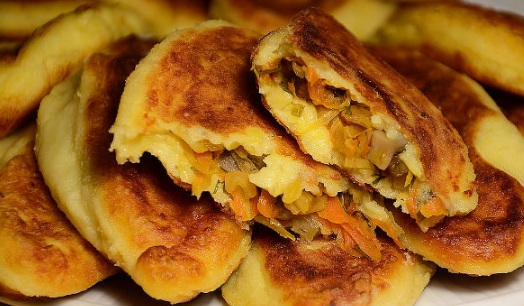 Cooking potato zraz is a short and uncomplicated culinary process. The result is not only a hearty but also a very tasty dish that can be served both for lunch and dinner.
Ingredients
Potatoes – 700 g
White cabbage – 250 g
Champignon mushrooms – 150 g
Pickled cucumber – 1 pc.
Egg – 1 pc.
Flour – 100 g
Bulb onions – 1 pc.
Carrots – 1 pc.
Butter – 50 g
Dill – 2-3 branches
Salt to taste
Vegetable oil – for frying
Flour – for breading (optional)
Directions
For cooking, you need to boil the potatoes. Add butter and mash the potatoes well. Add an egg, a little salt, and sifted flour to a slightly cooled potato. Mix everything well and get a potato dough.
Finely chop a small onion.
Finely chop the champignons.
Thinly chop the cabbage.
Finely chop the pickled cucumber.
Grind the greens.
Fry onions, cabbage, and carrots together for 10 minutes. Add mushrooms and fry for about 10 minutes. Add salt at the end. Put pickles and dill into the filling. Mix, warm up.

Gently form cakes from potato dough and put 1 tablespoon of vegetable filling inside, pinch the edges of the dough. We do the rest of the zrazy in the same way.

Zrazy can be breaded in flour, you get a more ruddy appetizing crust. You can fry without breading, but always in a very well-heated frying pan.
Fry potato zrazy with cabbage and mushrooms in vegetable oil for 3-4 minutes on each side.

We spread it on a paper towel.
Potato zrazy with cabbage and mushrooms are ready. Enjoy your meal!
Also Like
Comments for "Potato Zrazy with cabbage and mushrooms"