Tasty Potato Zrazy with Mushrooms
by Editorial Staff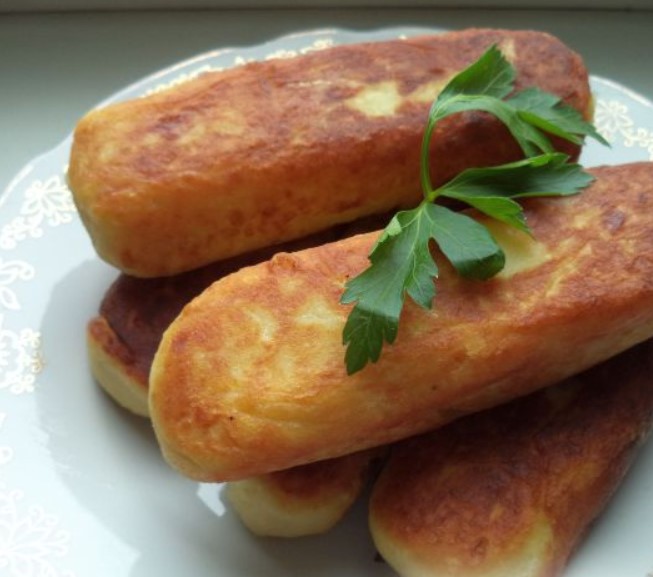 I will offer my favorite potato zrazy with mushrooms for lunch. It's simple.
Cook: 1 hour
Servings: 6
Ingredients
For potato dough:
Potatoes – 7-8 pcs. (about 0.9-1 kg)
Chicken eggs – 2 pcs.
Vegetable oil – 2 tbsp
Flour – about 2 cups
For filling:
Fresh mushrooms (champignons, honey mushrooms, mushrooms, etc.) – 300 g
Bulb onions – 1 pc.
Vegetable oil – 20 ml
Salt to taste
Pepper to taste
For frying:
Vegetable oil – how much will it take
Directions
Wash the potatoes, put in a saucepan, cover with cold water, put on fire, bring to a boil. Cook over medium heat until tender (about 20 minutes). Drain the water, cool the potatoes.
While the potatoes are boiling, make the filling. Peel the onion, wash, finely chop into cubes
Wash the mushrooms, cut into pieces.
Preheat a frying pan, pour in vegetable oil. Put onion in hot oil, fry until golden brown, stirring occasionally, over medium heat (2-3 minutes).
Put the mushrooms on the onion. Simmer everything together, stirring occasionally, for about 5 minutes. Salt, add spices as desired. Mix.

Peel the potatoes.
Pass the potatoes through a meat grinder.
Drive eggs into a bowl of potatoes. Season with salt and pepper. Add vegetable oil and flour.
Stir everything with your hand
Knead a soft potato dough.
Divide the dough into 2 parts. Form a sausage from each part.
Cut the sausage into slices, make circles out of them.
Knead the circles with your hand, put the filling on them (about 1 teaspoon each). Form cutlets-zrazy.

Preheat a frying pan, pour in vegetable oil. Put zrazy in hot oil. Fry over medium heat until golden brown on all sides (about 5 minutes). So fry all the zrazy.
Potato zrazy with mushrooms are ready.
Enjoy your meal!
Also Like
Comments for "Tasty Potato Zrazy with Mushrooms"