Potato Zrazy with Liver
by Editorial Staff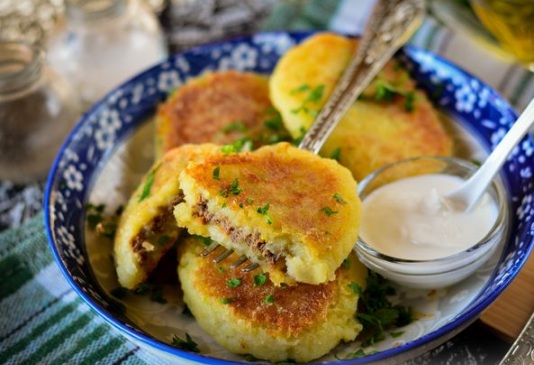 Potato zrazy with the liver is an appetizing and very tasty dish. The combination of potatoes and liver has always been successful, so this recipe for potato cutlets with liver will surely come in handy.
Ingredients
Potatoes – 400 g
Beef liver – 200 g
Onions – 70 g
Carrots – 50 g
Vegetable oil – 70 g
Wheat flour – 0.5 tbsp
Corn flour – 0.5 tbsp
Salt to taste
Ground black pepper – to taste
Fresh parsley (to decorate the dish) – to taste
Sour cream (for serving) – to taste
Directions
Peel and wash the carrots. Wash the peeled potatoes thoroughly.
Put the potatoes in a saucepan and cover with cold water. Place the pot over high heat. When the water boils, reduce heat, cover the pot, and cook for 20 minutes until the potatoes are tender.
Cool and peel the boiled potatoes. Pass the potatoes through a meat grinder.

Grate carrots on a coarse grater. Peel, wash, and cut an onion into cubes. Pour 0.5 tablespoons of vegetable oil into a frying pan and fry the onions and carrots over medium heat for a few minutes.

Rinse the liver, remove the films, and cut into medium pieces. Heat a couple of tablespoons of oil in a frying pan and fry the liver on all sides over medium heat for 5-7 minutes. When frying the liver, season with salt and pepper to taste.

Twist the cooled liver and carrots with onions through a meat grinder – this will be the filling for zraz.
Take 1.5 tablespoon. tablespoons of potato mass, slightly flatten, and put a teaspoon of filling in the center. Moisten hands slightly in water and blind the eyes, giving them a rounded shape.

Mix wheat and cornflour. Dip the zrazy in flour.
Heat the remaining oil in a skillet and add the zrazy. Fry potato zrazy with liver over medium heat on both sides, 3-4 minutes on each side. A golden crust should form.

Serve ready-made potato zrazy with liver with sour cream and herbs. Enjoy your meal!
Also Like
Comments for "Potato Zrazy with Liver"