Potato Zrazy with Minced Veal
by Editorial Staff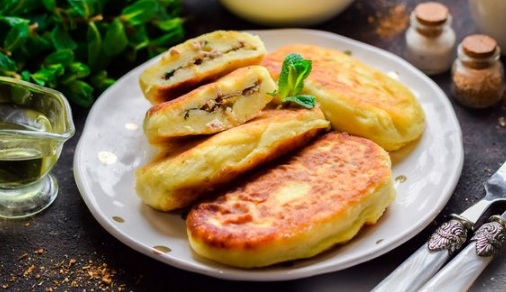 Today we will cook wonderful potato zrazy with minced meat. The recipe is very simple. Filled potato patties can be cooked in a pan or in the oven. Potato dough patties are tender, incredibly tasty, literally melt in your mouth.
Cook: 50 min.
Servings: 3
Ingredients
Potatoes – 450 g
Veal (pulp) – 280 g
Bulb onions – 0.5 pcs.
Fresh dill – 15 g
Egg – 1 pc.
Flour – 3 tbsp
Salt – 2 pinches (to taste)
Ground black pepper – 0.5 teaspoon
Vegetable oil – 2 tbsp
Directions
Minced meat can be used ready-made. But it's better to take a piece of meat and make minced meat from it.
Peel the potatoes, wash and cut into random pieces.
Fill the potatoes in a saucepan with water so that it covers the potato pieces completely. Boil the potatoes for 15-20 minutes from the moment they boil until soft.
Drain water from finished potatoes, add a pinch of salt, and mash in mashed potatoes. Let the mashed potatoes cool.
Add the egg and flour to the cooled puree.
Stir and knead to a soft dough. Leave the potato dough to rest for a bit.

In the meantime, cook the minced meat. Wash the veal, remove the veins. Cut the meat into small pieces.
Transfer the meat to a blender, chop until minced.
Peel the onion and cut it into small cubes.
Heat a frying pan with vegetable oil, put the onion and minced meat there.
Fry the minced meat until tender – 10 minutes. Use a spatula to break up the minced meat constantly. Preheat oven to 200 degrees.
Rinse the dull, dry, and chop finely. Add the dill to the minced meat. Add a pinch of salt and ground pepper, mix.
Make small cakes from the potato dough. Put a tablespoon of minced meat in the center of the blanks.

Form cutlets, roll in flour.
Grease a baking dish or another heat-resistant dish with vegetable oil. Put the zrazy there. Bake potato zrazy with minced meat in the oven for 12-15 minutes at 200 degrees (turn on convection, if any). Then turn over and bake for another 12-15 minutes.

Serve the mouth-watering potato zrazy with minced meat immediately after cooking. Good appetite!
Also Like
Comments for "Potato Zrazy with Minced Veal"