Potato Zrazy with Minced Chicken
by Editorial Staff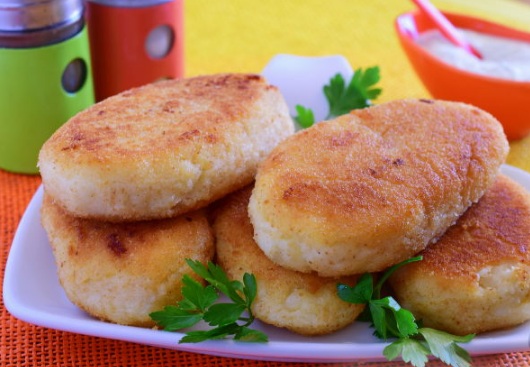 Potato zrazy stuffed with fried chicken fillet with onions are tender and very tasty, especially if they are served hot, with sour cream.
Cook: 60 min.
Servings: 2
Ingredients
Potatoes – 600 g
Chicken fillet – 250 g
Egg – 1 pc.
Bulb onions – 1 pc.
Wheat flour – 2 tbsp
Vegetable oil – 2 tbsp
Salt to taste
Ground black pepper – to taste
Bread crumbs – 100 g
Directions
Peel the potatoes cut each root vegetable into four parts. Put the potatoes in a saucepan, pour boiling water over the potatoes so that they completely cover the potatoes. Add 0.5 teaspoon. salt and cook potatoes over medium heat for 20 minutes.
Drain the water from the finished potatoes, use a potato grinder to make mashed potatoes. Let the potatoes cool for 3-4 minutes.
We drive an egg into warm potatoes.

Add flour and mix all ingredients well. We taste the potatoes with salt and, if necessary, add salt.
Dry the chicken fillet and cut it into small cubes.

Peel the onion and cut into half rings.
Fry chicken fillet with onions for 0.5 teaspoon. vegetable oil, add 1 pinch of salt and pepper so that the meat and onions give juice. Simmer the meat with onions for 15 minutes, until the chicken meat is fully cooked.

Grind the fried meat with onions in a blender or a meat grinder, add salt and pepper to taste.
Now let's formulate the zrazy. We make a round cake from potato dough. Put 1 teaspoon in the middle of the cake. meat filling.
We give the zrazam an oblong shape. Roll the potato zrazy in bread crumbs.

We do this with all the potato dough and filling.
Pour all the remaining vegetable oil into the pan and heat it over a fire. Fry zrazy on both sides over medium heat until golden brown.

We serve the ready-made zrazy hot with sour cream. Enjoy your meal!
Also Like
Comments for "Potato Zrazy with Minced Chicken"