Potato Zrazy with Carrots
by Editorial Staff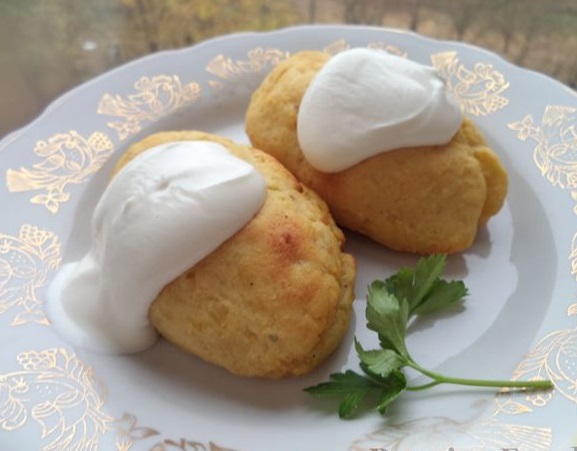 Potato zrazy with carrots – delicious stuffed vegetable cutlets that can be served as a side dish or as a separate dish.
Ingredients
Potatoes – 7-8 pcs.
Flour – 3 tbsp
Salt – 1 teaspoon (to taste)
Oil (or fat) – to grease the baking sheet
Carrots – 2-3 pcs.
Bulb onions – 1 pc.
Butter (or vegetable) – 50 g
Ground pepper – 0.25 teaspoon (to taste)
Salt – 1 teaspoon (to taste)
Sour cream (or butter)
Directions
Wash the potatoes, add cold water, and cover. Cook potatoes in their skins over low heat until tender, about 20 minutes from the moment they boil.

Cooking the filling. To do this, wash and boil carrots in the same way as potatoes.
Peel boiled carrots and grate on a coarse grater.
Peel the onion, wash, chop finely.
Send butter to the pan and melt. Saute the onion in oil, stirring for 2-3 minutes (medium heat). Combine the fried onions with grated boiled carrots. Then add pepper, salt and mix everything. The filling is ready.
Peel the boiled potatoes in the peel.
Crush or mince potatoes.
Then add flour and salt.
Knead a soft dough.
Roll out the cakes about 8 cm long and 6 cm wide from the resulting mass. Put the carrot filling on the cakes. Wrap the product in the form of pies, fold the edges. Place the zrazy on a greased (or oiled) baking sheet.
Put potato zrazy with carrots in the oven, preheated to 190 degrees, (or in the oven). Bake potato zrazy until golden brown, about 20 minutes.

Potato zrazy is ready. Serve hot with sour cream or butter.
Enjoy your meal!
Also Like
Comments for "Potato Zrazy with Carrots"