Potato Zrazy with Carrots and Boiled Eggs
by Editorial Staff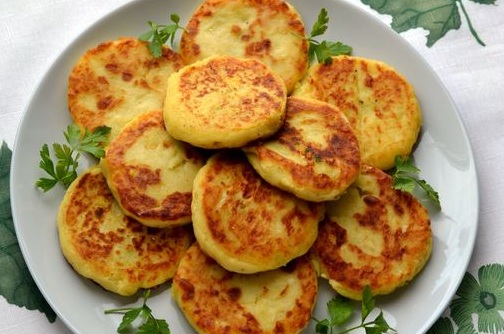 A simple and tasty dish – potato zrazy with carrots and boiled eggs. Soft and tender cutlets without meat, with an appetizing filling of vegetables and eggs – an excellent side dish or a complete independent dish!
Cook: 60 min.
Servings: 5
Ingredients
For zraz:
Potatoes – 700 g
Egg (small) – 1 pc.
Wheat flour – 2 tbsp + 2-3 tablespoon. breading spoons
Salt to taste
Ground black pepper – to taste
Vegetable oil (for frying) – 3-4 tbsp
For filling:
Eggs – 3 pcs.
Carrots – 2 pcs. (200 g)
Bulb onions – 2 pcs. (120 g)
Fresh parsley – 3-4 sprigs
Salt to taste
Ground black pepper – to taste
Vegetable oil (for frying) – 2-3 tbsp
Directions
Put the eggs in a saucepan, fill with water, put on the heat, and bring to a boil. Reduce heat and cook eggs for about 8 minutes. Then we cool the boiled eggs in cold water. From the indicated amount, I got 20 small potato zraz stuffed with carrots and eggs.
Peel the potatoes cut them into small pieces (I had rather small potatoes, so I just cut them in half), and send them to the pan. Fill with water, add a pinch of salt, mix, put on the heat, and bring to a boil. Then reduce the heat to medium and cook for about 20-25 minutes, until the potatoes are tender and soft.
Then we drain the water from the boiled potatoes. Put it back on the heating again and hold it for about 20-30 seconds so that the remaining moisture evaporates. Then knead the potatoes to a puree state with a crush.
Let the mashed potatoes cool slightly so that they are not too hot. Break the egg into a saucepan with mashed potatoes, add 2 tablespoon. tablespoons of flour and a little ground black pepper.
Mix well and set aside for now.
Cooking the filling. Peel the eggs and chop finely with a knife.
Peel the onion and cut it into small cubes.
Peel the carrots and rub them on a coarse grater.
We wash the parsley, dry it, and chop finely with a knife.
Heat 2-3 tablespoon in a frying pan. tablespoons of vegetable oil. Fry the onions over medium heat for about 1-2 minutes, until soft. Add the grated carrots and, stirring occasionally, fry for about 3-4 minutes.
Then remove the pan from the heat. Add eggs and herbs to the fried vegetables.
Salt, pepper, and stir. The filling for the zraz is ready.
We begin to form zrazy. To do this, sprinkle the hands and work surface with flour. We take about 2-3 tablespoon. tablespoons of potato mass, roll into a ball, and put on the board. We do this with the entire potato mass.
Then gently flatten each ball into a cake.
Put about 1-2 teaspoons of the filling on each cake.

Gently pinch the edges of each cake, closing the filling and forming a round shape. Then flatten slightly to flatten and flour on all sides.
Heat vegetable oil in a frying pan. Fry the zrazy over medium heat for about 2-3 minutes on each side, until golden brown.
Thus, we fry all the zrazy. If necessary, add vegetable oil to the pan.

Serve potato zrazy with carrots and boiled egg to the table, decorating with fresh herbs if desired.

Zrazy is soft and tender, with a fragrant, tasty filling. If desired, when serving, you can add sour cream to them – it will be even tastier! Bon Appetit!
Also Like
Comments for "Potato Zrazy with Carrots and Boiled Eggs"