Potato Zrazy and Mushrooms
by Editorial Staff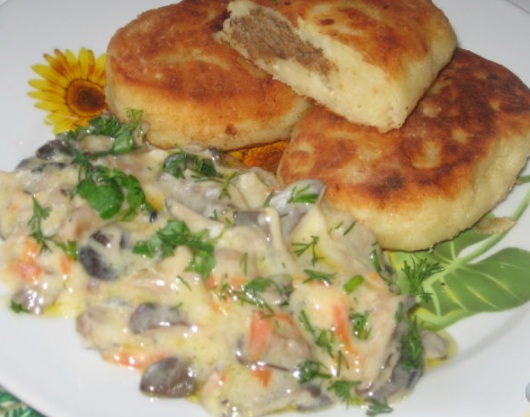 Potato zrazy stuffed with chicken liver, and instead of sauce – oyster mushrooms in sour cream. Simple and delicious!
Ingredients
Mashed potatoes – 500 g
Eggs – 1 pc.
Flour – 3-4 tbsp
For filling:
Chicken liver – 5-7 pcs.
Bulb onions – 0.5 pcs.
Carrots – 2 tablespoon. grated spoons
Salt
Pepper
Vegetable oil
For the mushroom gravy:
Oyster mushrooms (you can take champignons or other fresh mushrooms) – 500 g
Seasoning for mushrooms
Onions – 0.5 pcs.
Carrots – 0.5 pcs.
Sour cream – 150 g
Salt
Pepper
Vegetable oil
Flour – 1 tbsp
Greens – 1 tablespoon. chopped spoon
You can take ready-made mashed potatoes or boil potatoes in salted water, drain the water and use a special nozzle to make mashed potatoes using a mixer.
For the filling, you can take not only the chicken liver, but also other giblets, or prepare the filling for potato zraz as you wish, for example, from green onions and eggs.
Directions
Add an egg to the warm mashed potatoes, add flour one by one tablespoon, and mix everything well. You can use a mixer with a nozzle.
Fry the liver with onions and carrots in vegetable oil. Salt and pepper. Then we pass the liver with vegetables through a meat grinder or grind in a food processor.

From the potato mass, we will make portioned balls the size of a chicken egg.
We make a cake from a bun in the palm of our hand. Put the filling in the middle and close it, forming zrazy.

Fry the zrazy in heated vegetable oil on both sides. Put the finished potato zrazy on a plate and keep it warm.

Chop the oyster mushrooms and fry with onions and carrots in vegetable oil, salt, and pepper, season with mushroom seasoning. Reduce heat, cover, and simmer for 20 minutes. If the mushrooms are very "dry", you can add a little broth or water. Stir the sour cream with flour and add to the mushrooms. Let's put it out for another 5 minutes.

Sprinkle mushrooms with herbs. Serve potato zrazy with mushrooms. Enjoy your meal!
Also Like
Comments for "Potato Zrazy and Mushrooms"