Potato Zrazy with Cheese and Ham
by Editorial Staff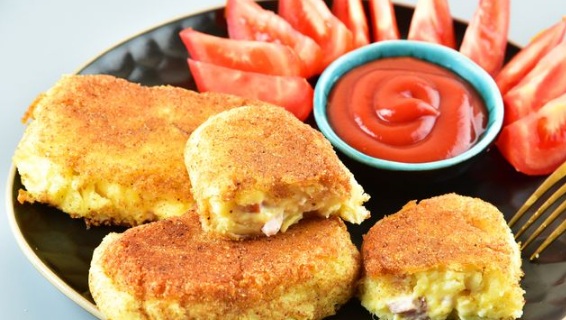 Appetizing potato zrazy will be a great alternative to the usual cutlets and a good dinner for the whole family. The filling of hard cheese and ham makes the dish original and more nutritious.
Cook: 60 min.
Servings: 4
Ingredients
Potatoes (large) – 750 g (3 pcs.)
Hard cheese – 100 g
Ham – 200 g
Egg – 1 pc.
Mayonnaise (or sour cream) – 1 tbsp
Bread crumbs – 50 g
Salt to taste
Freshly ground black pepper – a pinch
Butter – 20 g
Vegetable oil (for frying) – 50 g
You can use the mashed potatoes leftover from lunch or dinner. In this case, the cooking process will be significantly reduced.
Directions
Wash the potatoes thoroughly with a brush, put them in a saucepan, and cover with water. Bring to a boil and cover. Cook over low heat until tender (about 30 minutes, depending on the type of potato).
Cool the potatoes a little and peel. Add butter to the potatoes and mash with mashed potato. Then add the egg, salt, and pepper. Mix everything well.

Grate the cheese on a medium grater, cut the ham into thin medium slices.
In a deep bowl, combine cheese and ham, add mayonnaise for the bunch (you can do it without it or replace it with sour cream). Mix everything well.

Pour bread crumbs onto a plate, put a tablespoon of mashed potatoes there, and smooth a little, giving the shape of a cake. Put a teaspoon of the filling in the center of the resulting cake.

Connect the edges of the cake, pinch and roll in breadcrumbs on all sides, forming a zrazy. In the same way, form zrazy from the remaining puree and filling.
Put the zrazy in a frying pan preheated with vegetable oil and fry over medium heat for about 5-7 minutes. Turn over and fry until golden brown.

Serve hot potato zrazy with cheese and ham. The dish goes well with vegetables and sauces. Enjoy your meal!
Also Like
Comments for "Potato Zrazy with Cheese and Ham"