Potato Zrazy with Salmon
by Editorial Staff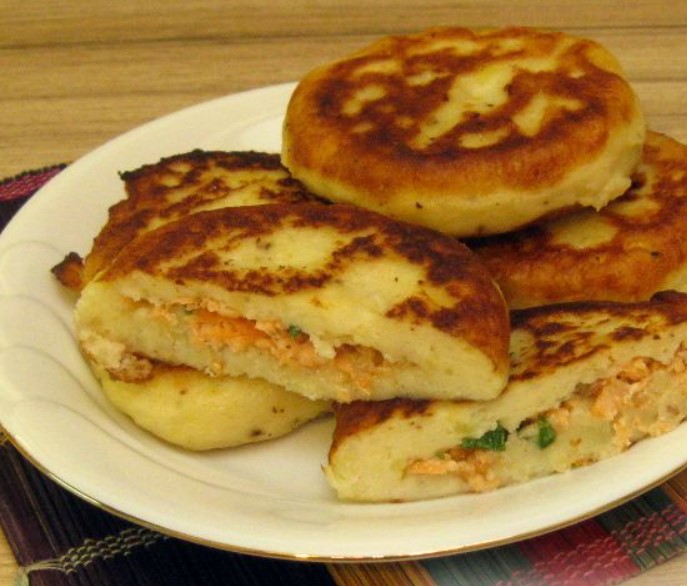 Very tender zrazy are obtained from crushed potatoes. And if the filling is tender salmon fillet … You can't pull it by the ears!
Cook: 1 hour 30 mins
Servings: 4
Ingredients
Potatoes – 700 g
(or mashed potatoes – 600 g)
Butter – 15-25 g
Egg – 1-2 pcs.
Flour – 60-80 g
Salmon fillet – 100 g
Parsley – 0.25 bunch
Olive oil – 0.5 tbsp
Vegetable oil – 1 tbsp
Salt to taste
Ground black pepper – to taste
Directions
Peel the potatoes, wash, cut, add water. Bring to a boil, season with salt and cook until tender (20-25 minutes).
Drain the hot potatoes. Add butter and immediately knead thoroughly until the potatoes are cold. Cool to about 40-50 degrees.
(The mashed potatoes can be used immediately or the next day.)
Add eggs and black pepper. Mix.

Add flour and mix thoroughly. Prepare the filling: Finely chop the salmon fillet.
Heat olive oil in a frying pan. Fry fillet pieces over medium heat, stirring occasionally, until tender (about 10 minutes).
Finely chop the parsley.
Mix the fried fillet with the parsley. Add salt and black pepper. Mash with a fork.
It is better to sculpt potato zrazy with wet hands. Take some potato dough (about 60-80 g). Roll into a ball and then form a cake. Put the filling in the middle of the cake (about 10 g – 2 teaspoon). Gently close the edges, forming a round patty patty.

Heat vegetable oil in a frying pan. Put the zrazy and fry them first on one side over medium heat until golden brown (it took me 4 minutes).
Then gently turn over and fry the potato zrazy with fish on the other side for another 4 minutes.
Potato zrazy with salmon are ready. Enjoy your meal!
Also Like
Comments for "Potato Zrazy with Salmon"