Zrazy Potato Stuffed with Meat
by Editorial Staff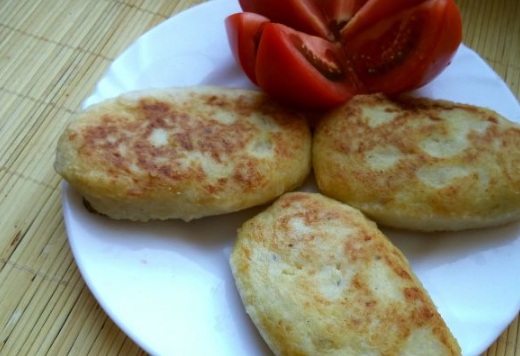 Cooking potato zrazy with meat filling for dinner. It's simple.
Cook: 60 min.
Servings: 6
Ingredients
Potatoes – 1 kg
Eggs – 3 pcs.
Flour – 2-3 tbsp
Boiled meat – 300 g
Bulb onions – 1-2 pcs.
Salt to taste
Pepper to taste
Vegetable oil for frying – about 70 ml
Directions
Wash the potatoes, put in a cauldron, pour cold water. Put on fire, bring to a boil. Cook potatoes in their skins over low heat, covered, until tender (20-30 minutes). Drain the water. Peel potatoes.
Pass the potatoes through a meat grinder. Beat in eggs, salt, add flour. Knead the potato dough well.

Peel the onion, wash, chop finely.
Pass the boiled meat through a meat grinder.
Preheat a frying pan, pour 1-2 tbsp vegetable oil. Put the onion in hot oil. Fry over medium heat, stirring occasionally, until golden brown (2-3 minutes). Add minced meat. Fry with the onion, stirring occasionally, for 2-3 minutes. Season with salt, pepper, mix well. Remove from heat. Refrigerate.

Take 1 tablespoon. a heaped spoonful of potato dough, form an oblong cake on the palm of your hand, put 1 tablespoon. a spoonful of minced meat.
Then wrap the edges, form a cutlet, breaded in flour. So do all the zrazy.

Preheat a frying pan, pour 1-2 tbsp vegetable oil. Put prepared zrazy in hot oil. Fry potato zrazy with meat over medium heat until golden, first on one side.
And then turn over and fry the potato zrazy with meat until golden brown on the other side.

So fry all the zrazy, add oil as needed, 1 tablespoon each. spoon.
Potato zrazy with meat is ready. Enjoy your meal!
Also Like
Comments for "Zrazy Potato Stuffed with Meat"