Meat Zrazy with Zucchini
by Editorial Staff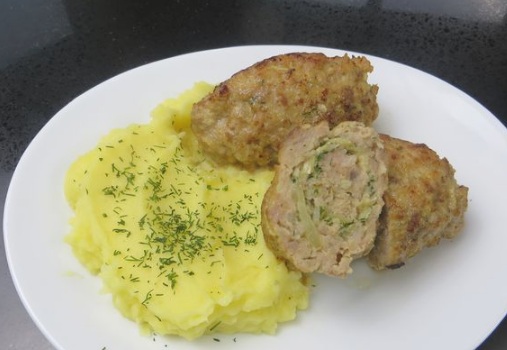 Zucchini with meat is my favorite food combination in summer! Today I will tell and show you how to cook minced meat with zucchini so that everyone will say that it is cooler than ordinary cutlets.
Ingredients
Minced meat – 500 g
Bulb onions – 2 pcs.
Egg – 1 pc.
Salt to taste
Ground black pepper – to taste
Bread crumbs – 3 tbsp
For filling:
Young zucchini – 2 pcs.
Garlic – 2 cloves
Dill greens – to taste
For frying:
Directions
Let's start by making minced meat. Combine meat, onion, egg, salt, and pepper cut into small cubes. Pour in crackers. Mix everything well.
Cut the courgettes into thin slices. Grease the frying pan with vegetable oil. Lightly (not until cooked) fry the zucchini – a couple of minutes is enough.

Pass the garlic through a press. Finely chop the dill. Combine garlic with dill, mix.
Grease hot zucchini with a mixture of garlic and dill.
On a film or a bag, form a rectangular cake from the minced meat along the length of the zucchini. Put a slice of zucchini on top.

Tightly, helping with the film, we roll the stuffed minced meat into a tube.
We close the filling on all sides, forming zrazy.
Fry the resulting zrazy on all sides over medium heat. Then we reduce the heating and bring the cutlets to readiness. For those who do not like or who cannot be fried, such meat zrazy with zucchini can be cooked in the oven.

Mashed potatoes are ideal for such zrazy. Juicy minced meat and spring squash with a garlic aroma – well, it turned out very tasty!
Also Like
Comments for "Meat Zrazy with Zucchini"