Zucchini "Pies" with Meat
by Editorial Staff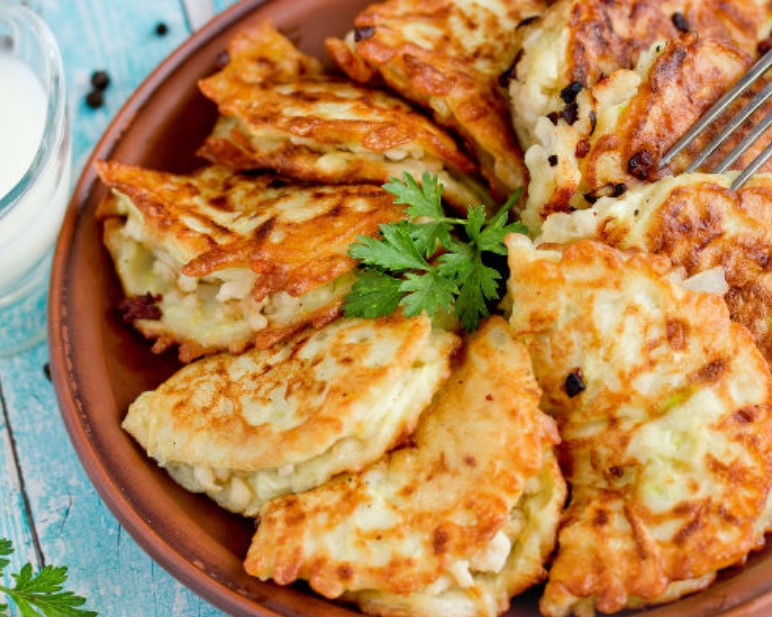 Having supplemented the recipe for zucchini pancakes with minced chicken filling, we will get a completely new, self-sufficient and very tasty dish that resembles mini meat pies, only from zucchini dough.
Cook: 25 mins
Servings: 3
Ingredients
Zucchini – 300 g
Minced chicken – 150 g
Bulb onions – 1 pc.
Egg – 1 pc.
Sour cream – 2-3 tbsp
Kefir – 100 ml
Flour – 5 tbsp
Sunflower oil – for frying
Salt to taste
Ground black pepper – to taste
Directions
Prepare the food you need.

Peel the zucchini and grate on a coarse grater.
Add the egg and sour cream to the squash mixture. Stir.
Then add kefir, flour, salt and black pepper.
Stir until you get a dough like for regular squash pancakes. If the dough is too runny, you can add flour; if thick – add a little kefir.
Heat the sunflower oil in a skillet. Fry the onion in small cubes in oil until golden brown. Then add the minced chicken to the pan and fry the minced meat with onions over high heat until the minced meat is cooked. Lightly season with salt during frying.
Transfer the sautéed minced chicken and onions to a bowl. Add oil to the pan, heat it and spoon the squash dough into oval thin cakes.
When the zucchini pancakes are browned from below, place some minced chicken on one edge, about 0.5 tablespoons each. l. for each portion of the dough.
Cover the minced meat with the loose zucchini pancake halves to make the patties. Cook for about 3 minutes, covered.

Then turn the zucchini pancakes with minced meat to the other side, fry for another minute, also under the lid.
In total, about 9 squash "pies" are obtained.
Serve zucchini "pies" with chicken meat to the table hot or warm, with sour cream.
Bon Appetit!
Also Like
Comments for "Zucchini "Pies" with Meat"