Thin Pies with Potatoes and Meat (Stuffed Tortillas)
by Editorial Staff
There are so many cool recipes in the world that we still need to try! Today is a "double blow"! Very thin fried pies with two types of filling or stuffed tortillas. Whatever you call it, it turns out delicious! Cook to your health!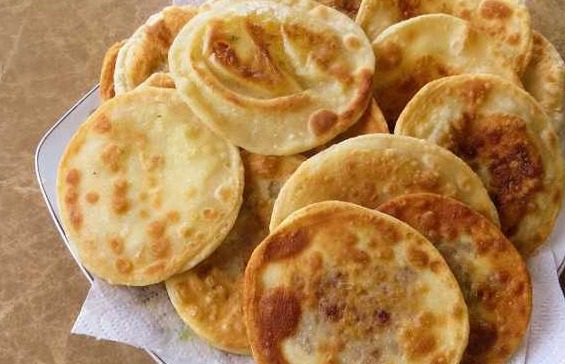 Ingredients
For the dough:
Kefir – 250 ml
Egg – 1 pc.
Flour – 325 g
Baking powder – 1/2 teaspoon
Salt – 1/2 teaspoon
Vegetable oil – 2 tbsp
For filling:
Potatoes – 3 pcs. (300 g)
Minced meat – 200 g
Bulb onions – 1 pc.
Salt to taste
Dry garlic – to taste
Dried dill (optional) – to taste
Vegetable oil – for frying onions and pies
Directions
We take a larger bowl, send an egg, kefir, salt, baking powder there. Add 1 tbsp of vegetable oil and mix.
Gradually introduce sifted flour.
We knead the dough. After a few minutes of kneading, we get a sticky dough. Do not add more flour, we need such a dough.
Pour the remaining oil on top and knead a little more. We cover the bowl with a lid and let the dough rest for 30 minutes.

During this time, we will prepare the filling, even two.
Fry the minced meat with onions, salt and pepper.
Peel the potatoes, wash and cook in salted water until tender (20-25 minutes), drain the water.
Add dry garlic and salt to the boiled potatoes to taste. Crush mashed potatoes. You can add dried dill greens.
Flour the table and dough well. Roll out the dough into a thin layer (3-4 mm).
Using a mold, cut out small blank circles from the dough. The dia of my mold is 8.5 cm.
Put a teaspoon of potato filling on a circle of dough.

Cover the filling with one more circle of dough on top.
We pinch the edges well. Lightly roll the stuffed pies with a rolling pin to make the pies even thinner.
Fry thin pies with potatoes in a frying pan in a little oil on both sides.
In exactly the same way, we prepare kefir cakes (thin pies) with meat.
That's how easy and simple it turned out a whole mountain of delicious thin pies, or cakes with a filling. I liked pies with meat more, well, I just love meat more than potatoes.
Bon Appetit!
Also Like
Comments for "Thin Pies with Potatoes and Meat (Stuffed Tortillas)"