Meat Pies
by Editorial Staff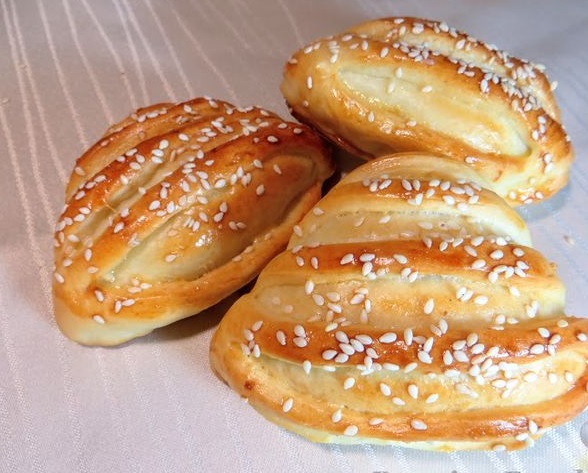 Meat pies a la samsa. They are so delicious it is impossible to resist. Something incredible, delicious, and beautiful! The Indian way of sculpting, which I really liked. Repeat on health, cook with pleasure!
Ingredients
Milk (warm) – 100 ml
Kefir – 150 ml
Sugar – 2 teaspoon
Baking powder – 1 teaspoon
Salt – 1 teaspoon
Dry yeast – 2 teaspoon
Vegetable oil – 100 ml + for lubrication of workpieces
Flour – 500-550 g
Boiled chicken – 500 g
Bulb onions – 2 pcs.
Parsley
Salt to taste
Ground black pepper – to taste
Yolk – for greasing pies
Milk – 1 teaspoon
Sesame seeds – for sprinkling pies
Directions
We start by making yeast dough for pies. We prepare all products.

We make a quick dough. Make a small depression in the flour and pour in warm milk. We send yeast and sugar. Stir and let stand for 10 minutes for the yeast to work.
Then we combine all the remaining products for the dough and knead the soft dough. Flour can go a little more or slightly less than indicated in the recipe. It took me 480 g, focus on your flour.
We give the dough to double (under the film), but for now, we will deal with the filling for the pies.
Cut the onion into small cubes and fry in a little vegetable oil until lightly golden.
Grind the chicken meat, I will scroll it in a meat grinder into a bowl with fried onions.
Add salt, black pepper, and chopped parsley to the meat. Mix – and the filling is ready.
(You can also add cheese to the filling, but I'll do it next time!)

The dough went well. Lightly crush and divide into 50-gram pieces. We grease each workpiece with vegetable oil and let it stand on the table for 10 minutes.
Roll out a thin cake (the dough is elastic, pleasant to work with). We cut half the cake with a knife, without cutting the dough to the end, – we get a mesh. And grease the other half with water.
Fold in half.
Then we connect (concatenate) the edges of the middle line. It turns out a pouch in the form of a cone without a base.
We send a couple of teaspoons of the filling inside. We pinched the edge – and we got a nice "samsa", this method is traditional for India.
Grease each meat pie with whipped yolk and sprinkle with sesame seeds.
We bake samsa with meat in an oven preheated at a temperature of 200-220 degrees. The filling is already ready, the dough will cook quickly, bake until golden brown!
"Samsa" is ready and flies away in a minute. There will be no in different people at the table, very tasty! You can experiment with the filling, cook for health!
Also Like
Comments for "Meat Pies"