Pancake Pies
by Editorial Staff
Be sure to make these cool pancakes-pies made of curd dough on kefir! They made a splash in our kitchen. Crispy crust, delicate dough inside and the filling we love! Any filling can be used! Super recipe!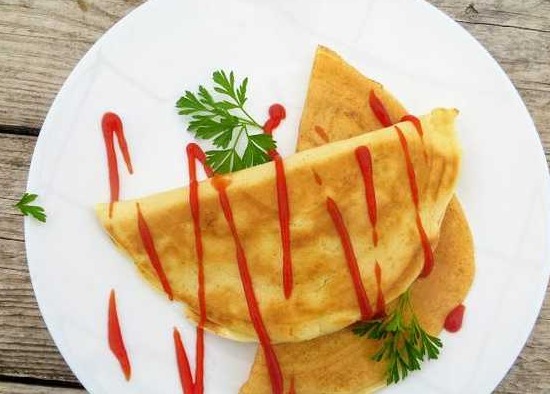 Ingredients
For the dough:
Eggs – 2 pcs.
Kefir – 500 ml
Cottage cheese – 200 g
Flour – 300 g
Vegetable oil – 100 ml
Soda – 1 teaspoon
Salt – 1/2 teaspoon
Sugar – 1 teaspoon
For the filling (to taste):
Bananas
Chocolate
Boiled chicken with herbs
Cheese
Directions
We will prepare all the products that are necessary for the curd dough and start. Everything is prepared easily and quickly.
Beat eggs with a mixer with cottage cheese, adding part of the kefir.

Add sugar and salt, pour in vegetable oil.
Little by little we introduce part of the flour.
Add soda to the remains of kefir, mix well.
Continuing to beat, pour in kefir and add the remaining flour. The dough turns out like thick sour cream. Let the dough stand for 5-7 minutes.
Again, choose any filling to your taste! Today we have bananas and chocolate, as well as chicken (boiled) with herbs.
Pour a portion of the dough into a preheated pan (on a pancake), quickly level. And under a lid over low heat, fry one side.
As soon as one side of the pancake is browned, spread the filling on one half of the pancake and cover with the free half.

Also, under the lid, without adding heat, fry a pancake-pie with filling on both sides.
The crust will brown well, it will be crispy! It turned out very tasty! Cheese was added to the last chicken pancake – you know, it turned out supernatural! Pancake pies with chocolate and banana scattered in one minute!
Bon Appetit!
Also Like
Comments for "Pancake Pies"