Cabbage Pies (in the oven)
by Editorial Staff
Delicious pies with cabbage! Lush, airy yeast dough and juicy braised cabbage filling with onions and eggs. They are prepared simply, pies are baked in the oven quickly.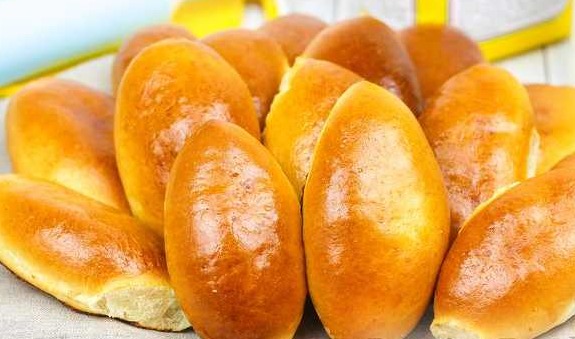 Ingredients
For the dough:
Wheat flour – 500-550 g
Warm milk – 150 ml
Warm water – 150 ml
Egg – 1 pc.
Dry fast-acting yeast – 7 g
Sugar – 1 tbsp
Salt – 1 teaspoon
Vegetable oil – 30 ml (+ for greasing dishes and pies)
For filling:
White cabbage – 400 g
Bulb onions – 1 pc.
Eggs – 1-2 pcs.
Salt to taste
Ground pepper – to taste
Greens (optional) – to taste
Vegetable oil for frying – 50 g
To grease the pies:
Egg – 1 pc.
Milk – 1 teaspoon
Directions
Sift flour (400 g – about 3 glasses of 200 ml volume), add yeast, sugar, salt. We mix.
Pour warm milk and warm water. Add the egg and butter. Stir with a spoon and knead the dough. Add more flour in portions (about 150 g), you may need a little less or a little more. Knead the dough with your hands for about 7 minutes.

Grease the cup with vegetable oil, put the dough in the cup and cover with foil. Leave the dough in a warm place to rise for about 1 hour.
Cooking the filling. Thinly chop the cabbage.
Peel the onion and cut into medium cubes. Pour vegetable oil into a frying pan, put onion and fry until transparent.
Add cabbage, mix. Simmer the cabbage, covered, until soft over medium heat, stirring occasionally so that the cabbage does not burn.
If the cabbage is very dense and not juicy enough, you can add a little water.
Stir the eggs with a whisk and pour into the cabbage. Add salt, pepper (you can add chopped herbs). Stir and fry a little. Let the filling cool.

The dough has increased, became airy and porous.
Knead the dough, divide into small pieces and roll them into balls, about 16 pieces.
Roll each ball into a cake, sprinkle with flour if necessary.
Put the filling on each cake, about a tablespoon. We connect the edges of the dough and form a pie.
Grease the baking sheet with vegetable oil. Put the pies with cabbage seam down on a baking sheet, cover with a napkin and let the pies rest for about 10 minutes.
Then grease the pies with a mixture of eggs and milk.
We put the baking sheet in the oven, preheated to 180-190 degrees, and bake the yeast pies in the oven for about 30 minutes, until golden brown.

Put the finished hot pies with cabbage on a dish. To make the crust of the pies soft, you can grease it with oil. Cover the pies with a napkin and let them cool slightly.
Bon Appetit! Enjoy cooking!
Also Like
Comments for "Cabbage Pies (in the oven)"