Cherry Pies (in the Oven)
by Editorial Staff
Well, delicious homemade pies with cherries in the oven! Soft, fluffy dough and juicy cherry filling. I am pleased to share my recipe with you!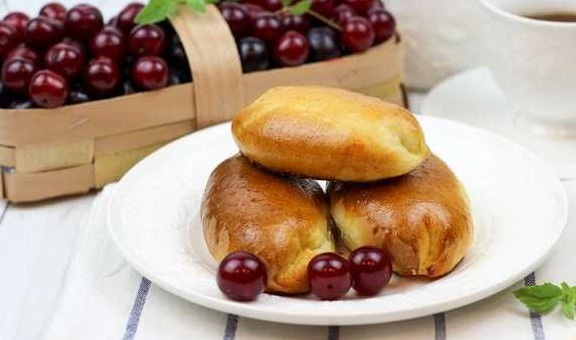 Ingredients
For the dough:
Wheat flour – 480 g (3 cups)
Dry yeast – 7 g
Sugar – 1 tbsp
Salt – 1 teaspoon
Milk (or water) – 300 ml
Vegetable oil – 50 ml + for working with dough and greasing parchment
For filling:
Pitted cherries – 300 g
Sugar – 200 g
Corn starch – 1 tbsp
To grease the pies:
Egg – 1 pc.
Milk – 1 teaspoon
Directions
Sift flour.
Heat milk or water to about 40 degrees.
Prepare dough: warm milk (or water), yeast, sugar and 0.5 cups of flour, mix with a whisk, cover with a napkin and leave for 20 minutes.
When the dough comes up (covered with bubbles), add the remaining flour, salt and vegetable oil. Mix.

Knead the dough for about 10 minutes. The dough should be soft and docile.
Grease a clean cup with vegetable oil, knead the dough with "oily" hands. Then put the dough in a cup, cover with foil and put in a warm place to rise, for 40 minutes.
Knead the dough, divide into two parts. Divide each part of the dough into 8 small pieces, roll into balls. Cover with a napkin and let the dough rise for about 5-10 minutes.
Prepare the filling for the pies.
Rinse the cherries, remove the seeds, fold into a sieve to remove excess juice.
Mix sugar with cornstarch.
Roll each ball of dough into a cake. Do not add flour. Lubricate hands, rolling pin and work surface with vegetable oil, if necessary. The dough does not need to be hammered with flour, then the pies will be soft and airy.
Put berries on each cake, about 5-6 pieces. Sprinkle on top with a mixture of starch and sugar (1 teaspoon each). Connect the edges of the dough and form patties.

Cover the baking sheet with parchment, lightly grease with vegetable oil. Put the pies on the parchment with the seam down and brush on top with an egg mixed with milk.
Put a baking sheet in an oven preheated to 180-190 degrees, bake pies with cherries for about 20-30 minutes.
Rosy, fragrant and delicious cherry pies are ready. Bon Appetit!
Also Like
Comments for "Cherry Pies (in the Oven)"