Fried Meat Pies
by Editorial Staff
Homemade pies are perhaps the most popular pastries. According to this recipe, cook fried pies with sour cream – a small size, with a delicious meat filling.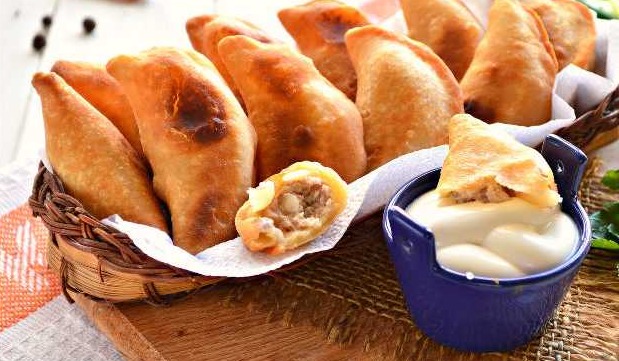 Ingredients
For the dough:
Wheat flour – 320 g
Sour cream – 120 g
Water – 70 ml
Vegetable oil – 1 tbsp
Salt – 1 teaspoon
For filling:
Minced meat – 300 g
Bulb onions – 0.5 pcs.
Water – 80 ml
Salt to taste
Ground black pepper – to taste
Vegetable oil for frying – 100 ml
Directions
To prepare fried pies, take the right amount of food according to the list of ingredients.

Knead the dough with sour cream. To do this, combine sour cream and water in a bowl.
Then add salt and oil. Mix the ingredients.
Sift wheat flour into a separate bowl, make a depression in the center.
Pour the sour cream into flour in small portions.
Knead the sour cream dough for pies. We collect the dough in a ball, wrap it with cling film and send it to "rest" in the refrigerator for 30 minutes.
For the filling, we use ready-made minced meat. In case you have meat, then it should be chopped in a meat grinder or food processor.
Add chopped onions, salt to taste and ground pepper to the minced meat.
Mix the ingredients of the filling well by adding water to the minced meat. The minced meat should be of a liquid consistency.
We take out the pie dough from the refrigerator. Roll it out into a thin layer (or divide the dough into parts for convenience). We cut out blank mugs for small pies with a mold.
Put a little meat filling in the center of each circle (1 teaspoon each).

We close the edges of the pies well.
Fry pies with meat in a large amount of well-heated vegetable oil.
Put the rosy fried pies on a napkin so that the excess fat is absorbed.

Serve ready-made homemade meat pies with sauce.
Bon Appetit!
Also Like
Comments for "Fried Meat Pies"