Fried Pies with Potatoes and Mushrooms
by Editorial Staff
It is very simple and quick to prepare puffed kefir dough for fried pies. According to this recipe, we prepared the pie dough without yeast. Kefir pies are best cooked in a pan, and not in the oven. They turn out surprisingly airy, they just melt in the mouth.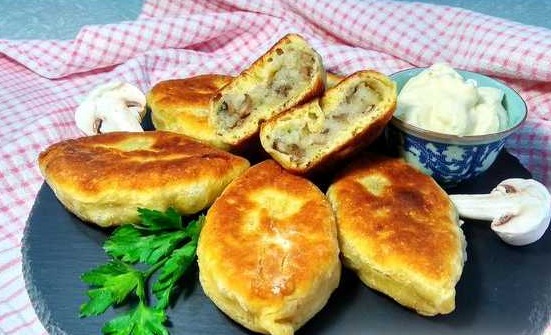 Cook: 1 hour
Ingredients
For the dough:
Flour – 400 g
Kefir – 1 glass
Eggs – 1 pc.
Sugar – 2 tbsp
Butter – 40 g
Vegetable oil – 2 tbsp
Soda – 1 teaspoon
Salt – 1 teaspoon
For filling:
Mashed potatoes – 700 g
Champignons (fried) – 400 g
Green onions – 5 pcs.
Salt to taste
Pepper to taste
Vegetable oil for frying – 100 ml
Directions
Cut off the roots of green onions and chop them finely.
Combine potatoes, mushrooms and onions, season with salt and pepper.

Mix everything well into a homogeneous mass. The filling for the pies is ready.
Cooking dough for pies on kefir. Break a chicken egg into a container, add sugar, salt, soda, pour in kefir and vegetable oil. Mix everything.
Pour sifted flour and butter into another bowl, grind with a fork. Pour kefir into the flour mixture and knead the dough.
First with a spoon, and then with your hands, bring the dough to a homogeneous state. Cover the dough with a cloth and rest for 20-30 minutes.
Divide the finished dough for pies into portioned pieces, form small circles from them.
Put the potato and mushroom filling in the center of the circle.
Fasten the edges and turn the seam down.
Do this with all the blanks.

Pour vegetable oil into a frying pan, heat it up and lay out the pies.
Fry pies over low heat on both sides until golden brown. When you turn the patties to the other side, cover them with a lid and continue to fry.

Put the finished fried pies on a plate with a paper napkin. Then transfer to a saucepan and cover. This makes the pies more tender.
Serve hot fried pies with potatoes and mushrooms with sour cream.
Bon Appetit!
Also Like
Comments for "Fried Pies with Potatoes and Mushrooms"