Lazy Pies on Potato Broth
by Editorial Staff
I'm sure everyone has recipes that you just remember – and you just want to cook! Today, a very simple, even lazy recipe for pies in the oven. The smallest and at the same time incredibly tasty pies according to my aunt's recipe!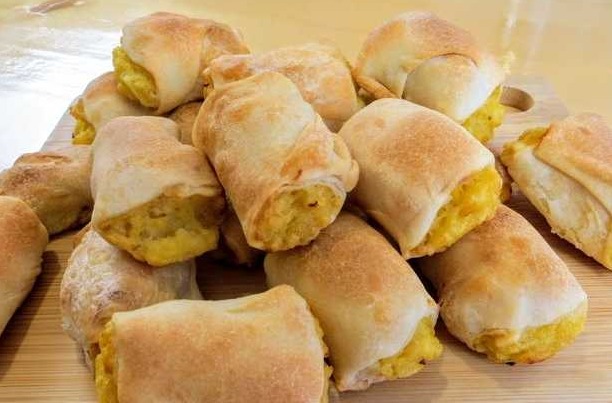 Ingredients
For the dough:
Potato broth – 300 ml
Refined vegetable oil – 2-3 tbsp
Wheat flour – 600 g
For filling:
Potatoes – 1 kg
Onions – 2-3 pcs.
Salt – 1 pinch
Ground black pepper – 1/2 teaspoon
Refined vegetable oil – for frying onions and greasing dough
Directions
If everything is prepared in advance, baking and baking will take no more than half an hour. The process is familiar, let's start!
We send the potatoes to the stove and cook until tender in salted water.
After that, do not pour out the potato broth! It needs to be cooled.

Cut the onion into small cubes and fry until golden brown in a preheated pan with vegetable oil. Salt and pepper.
Pour the potato broth into a separate bowl.
Combine boiled potatoes and fried onions.
We knead.
We get an excellent filling. I really like mashed potatoes with onions.
Add vegetable oil (2-3 tablespoons) and potato broth (slightly cooled) to the flour.
Knead for a few minutes and get a soft, elastic dough.
We give the dough a few minutes to rest.
Divide the dough into three parts. Roll one part of the dough into a very thin layer.
Having retreated 2 cm from the edge of the layer, we spread the filling in the form of a sausage in a circle, leaving a small gap (gap) in one place.
In the center of the dough layer, pour a little vegetable oil (1-2 tablespoons) and rub it well over the surface of the dough.

Starting from one edge of the filling and tightening the dough, we wrap the dough with the filling in a roll: raise it, tighten it, wrap it up. The dough is getting thinner and thinner.
We make a cut from the center to the edge of the dough with a gap without filling. We continue to roll up the roll, approaching the center.
The result is a long "sausage". Cut it into small pie rolls.
We turn on the oven to heat up to 200 degrees.
Roll the pies in vegetable oil on the work surface.
We spread the pies on a baking sheet.
We bake in a preheated oven at a temperature of 200 degrees for 15-20 minutes.
The dough and filling are enough for three full sheets of pies. While the first one is sent to the preheated oven, we cook the rest.
The pies are flaky, crispy for a long time (if left)!

With the filling, you can dream up, next time I will cook meat.
So, never pour out the potato broth, it might come in handy!
Bon Appetit!
Also Like
Comments for "Lazy Pies on Potato Broth"