Potato Pies with Mushrooms
by Editorial Staff
The potato dough that the whole family fell in love with! What we just didn't cook with him! And today pies with my favorite filling. Potato pies with mushrooms are baked in the oven, very fragrant and unusual in shape! And most importantly, the pies are incredibly tasty!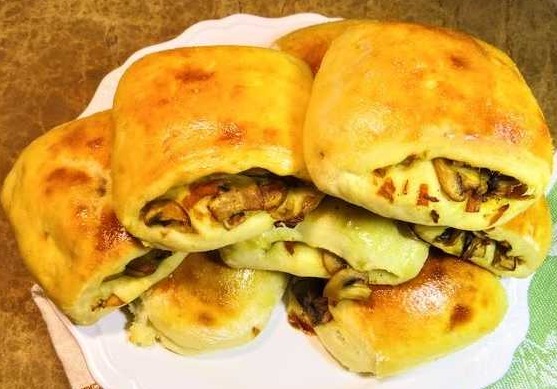 Ingredients
For the dough:
Boiled potatoes – 450 g (5 pcs.)
Egg – 1 pc.
Butter (soft) – 50 g
Water (warm) – 250 ml
Yeast (dry) – 1 teaspoon
Flour – 500-550 g
Salt – 1/2 teaspoon
Sugar – 1 teaspoon
For filling:
Fresh champignons – 250-300 g
Onions – 2 pcs.
Carrots – 1 pc.
Salt to taste
Ground black pepper – to taste
To grease the dough:
Yolk – 1 pc.
Milk – about 1 tbsp
Directions
Add sugar and yeast to warm water, and a couple more tablespoons of flour. Stir and let the dough stand for 5-7 minutes, let the yeast disperse (activate).
Rub the boiled potatoes on a fine grater, add the egg, salt and quick dough.

Stir and gradually add flour.
When the dough is collected in one dense lump, add soft butter. Knead well and let stand (distance) under the film in a warm place, for about 1 hour.
During this time, we will prepare the filling.
Cut the onion into small cubes and fry until golden brown in a little vegetable oil.
Rub the carrots on a coarse grater and add to the onion.
When the carrots are lightly fried, add the chopped mushrooms. We don't fry the champignons much, the most important thing is to evaporate excess moisture from them. Salt, pepper and cool the mushroom filling for the pies.
The dough fits well, we divide it into two equal parts. We form a long, narrow strip. You can dust the table with flour. Put the filling on one edge of the workpiece.

Cover the filling with a free edge and pinch the seam well. Cut into 7-8 cm pieces.
We spread the potato dough pies with mushroom filling on a prepared baking sheet and let it stand for 15 minutes while the oven heats up. Then grease with whipped yolk.
We bake pies in the oven at 200 degrees for 20 minutes.
Potato pies with mushrooms are very aromatic and soft. Real pies! Bon Appetit!
Also Like
Comments for "Potato Pies with Mushrooms"