Chicken and Potato Puff Pies
by Editorial Staff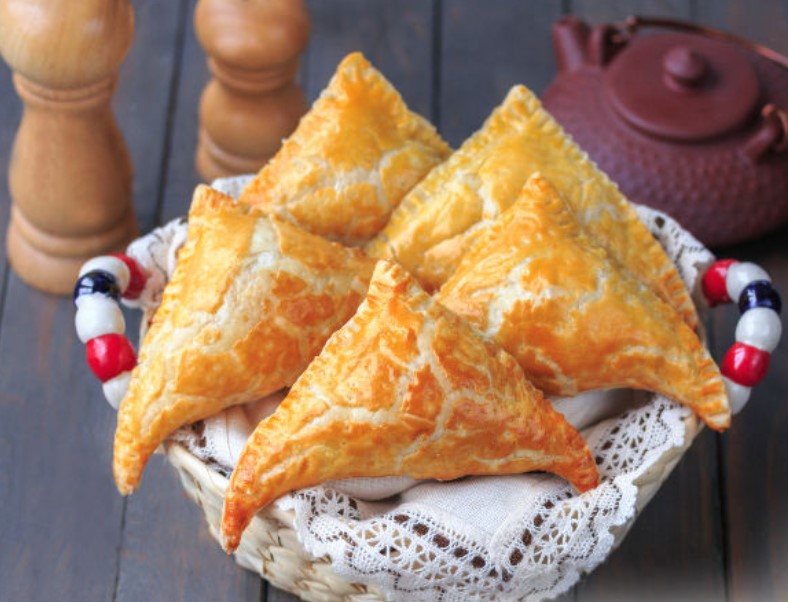 Hearty, tasty and quick-to-cook puffs are a lifesaver for any culinary specialist. Made from ready-made puff pastry, supplemented with a simple filling of chicken fillet and potatoes that does not require pre-cooking or frying, the pies are airy, ruddy, soft and very tasty, and most importantly, the preparation of such mouth-watering pastries takes just a few minutes.
Cook: 1 hour 30 mins
Ingredients
Puff pastry – 500 g
Yolk – 1-2 pcs.
Wheat flour – for working with dough
For filling:
Potatoes – 300 g
Chicken fillet – 200 g
Bulb onions – 1 pc. (150 g)
Salt to taste
Ground black pepper – to taste
Directions
Prepare foods for the chicken and potato puff pastry. Defrost the puff pastry in advance, leaving it at room temperature for 30-40 minutes

Chop the filling ingredients very finely: peeled raw potatoes, chicken fillets and onions.
Mix the prepared ingredients, add salt and ground black pepper to taste.
Roll out the defrosted puff pastry to a thickness of 2-3 mm, after sprinkling a small amount of flour on the work table. For the convenience of work, the dough can be divided into 2 parts weighing 250 grams. In this case, while you are working with the first half of the dough, the second should be temporarily placed in the refrigerator.
Cut the puff pastry into 12-16 pieces (respectively, every 250 grams of dough – into 6-8 pieces).
Add a serving of filling for each part of the dough.
Join the edges of the dough pieces to shape the meat and potato patties as desired.
Dip the tines of a fork into the wheat flour and press down on the edges of the patties to create a pattern.

Put prepared pies with chicken and potatoes on a baking sheet lined with baking paper and brush with egg yolk.
Place the puff pastry patties in an oven preheated to 180 degrees and bake for 30-35 minutes, until golden brown.
Chicken and potato puff pastries are ready. '
Bon Appetit!
Also Like
Comments for "Chicken and Potato Puff Pies"