Puff Pastry Pies with Vegetable Filling
by Editorial Staff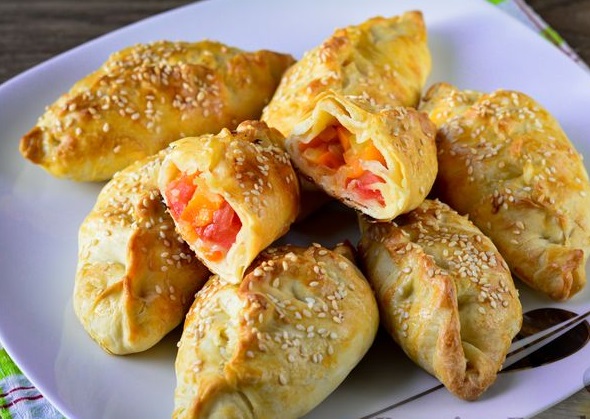 Make delicious vegetable puff pastries. You can make puff pastry ready-made, but it is better to knead it yourself – it is not difficult, you just need water, flour, salt, and margarine. For the vegetable filling, use tomatoes, onions, and bell peppers. The filling will be juicy and aromatic.
Ingredients
Margarine – 50 g
Egg (small) – 1 pc.
Water (warm) – 120 g
Flour – 250-270 g (± 2 cups with a capacity of 200 ml)
Salt – 0.5 teaspoon
Tomatoes – 2 pcs.
Sweet pepper – 2 pcs.
Bulb onions – 1 pc.
Vegetable oil – 2 tbsp
Salt to taste
Ground black pepper – to taste
Egg (for greasing pies) – 1 pc.
Sesame seeds (for sprinkling pies) – 1-1.5 teaspoon
Directions
Prepare the required ingredients.
Warm the water slightly and mix with salt.

Sift flour into a bowl, add an egg.
Pour in warm water mixed with salt.
Stir the dough ingredients. There will be lumps first.
Knead the dough for 4-5 minutes, until it gathers into a bouncy ball. Leave the dough under a towel for 15 minutes.
Melt margarine and leave to cool.
Then roll out the dough into a layer about 4 mm thick.
Brush with cooled melted margarine. It is the margarine that will make the dough flaky.
Roll the dough into a roll and refrigerate for 15 minutes.
In the meantime, prepare the filling. To do this, rinse the tomatoes, onions, and bell peppers, peel, and cut into small cubes.

Put the vegetables in a bowl, pour with oil and add salt and black pepper to taste. Stir.
Remove the dough from the refrigerator and cut into 4 cm thick pieces.
Roll each piece into a circle with a rolling pin.
Put 1-1.5 tablespoon in the center. tablespoons of the vegetable filling.
Shape into a patty and pinch the edges of the dough well.
Turn on the oven, set the temperature to 180 degrees.
Blind all the pies. Brush with beaten egg and sprinkle with sesame seeds.
Place the patties on a baking sheet lined with a silicone mat or parchment and place them in the oven preheated to 180 degrees.
Bake puff pastry pies with vegetables for 20-25 minutes, until lightly golden brown. Remove the finished puff pastries from the oven, cover with a clean towel and let cool for 10-15 minutes to soften.
Also Like
Comments for "Puff Pastry Pies with Vegetable Filling"