Puff Pies with Cottage Cheese and Herbs
by Editorial Staff
Flaky, crispy and delicious placinths made from common, readily available foods.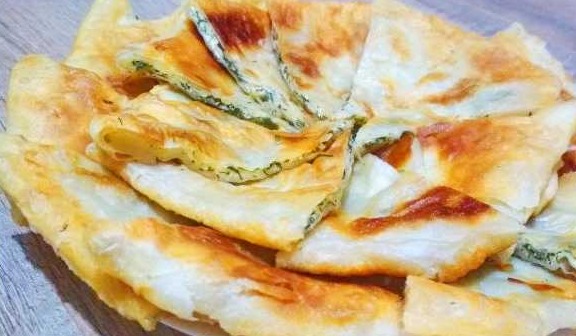 Cook: 1 hour
Ingredients
For the dough:
Water – 350 ml
Flour – 500 g
Salt – a pinch
For filling:
Cottage cheese (or feta cheese) – 300 g
Dill greens – 2 bunches
Green onions – 1 bunch
Eggs – 2-3 pcs.
Salt – 1 teaspoon
Vegetable oil – 500 ml
(for frying and greasing dough)
Directions
Add a pinch of salt to the sifted flour (320 g) and pour in all the water.
Mix and, gradually adding the remaining flour, knead the dough first in a bowl, then dust the table with flour and stir on the table.
Divide the dough into 4 equal parts. We knead each part of the dough a little and form a bun. We do this with the whole test.
Cover with a bowl and leave to "rest" while we prepare the filling.

Finely chop the green onion and dill.
First add two eggs to the curd, mix with a fork. Then add greens, mix, salt. We look at the consistency, whether you need a third egg or not. The filling should not be liquid, so as not to leak. Two eggs are enough for me. If the greens are not at hand, you can add another 100 g of cottage cheese or feta cheese to the filling.
We crush the koloboks again. Roll one bun into a thin layer.
Lubricate the top with two tablespoons of vegetable oil, not reaching the edges of 2-3 cm.
Fold it in half, grease it again with vegetable oil, we need about 1.5 tbsp
Fold and grease again 1 tbsp vegetable oil. Too full spoons should not be poured, since oil will flow out during the formation of placinas. Stretch the edges of the cake slightly.
Put the filling on the center. We collect the edges and form an envelope-shaped placinda.

We pinch the edges, press them into the dough. We stretch the placinda a little, do not forget to dust the table with flour and, without pressing hard, roll the placinda with a rolling pin.
Put a frying pan with vegetable oil on medium or slightly below medium heat. We fry the cakes on both sides until a beautiful golden crust.

The placinths are ready. They turned out to be layered, the dough is very soft and tender, the next day the placinths are just as tasty.
Bon Appetit!
Also Like
Comments for "Puff Pies with Cottage Cheese and Herbs"